Vax Die-Off for Next Three Years – Clif High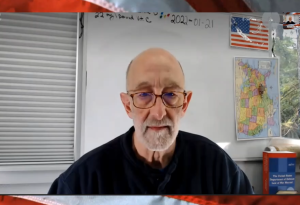 By Greg Hunter's USAWatchdog.com (Saturday Night Post)
Clif High is an Internet data mining expert who uses "Predictive Linguistics" and computer programs to sort through billions of bits of information on the Internet to predict future trends and events. Some of his most disturbing trends he has spotted in his data analysis surround the CV19 vax. High is seeing the vax narrative breaking down. It may only be a matter of weeks before the restrictions and coerced injections are over, but that does not mean it's clear sailing. According to High, the worst by far is yet to come. High explains, "So, it's breaking down. The real horror is yet awaiting us, and that's when all of the people who have been harmed by these injections wake up and realize they have been harmed and will have the natural emotions that accompany that."
The CDC is now reporting a 40% increase in death totals for 2021. The reports are saying the huge increase is "unexplained." High and many others say the CV19 injections explain it all, and it's only going to get much harder to explain. High's analysis says, "I think we are looking at three years here before it peaks: 2022, 2023 and 2024. There is a lot of stuff in the data that says 2024 will be the tail-off of it. So, we have a number of very rough years ahead of us. Each year in succession will have more people dying than the year before. There is also going to be more infirmities, more illness and more of a drain on the system. In this three years, we will take the globalists to task and hold them accountable for their crimes. We are going to have a 'red pill' moment that's coming soon. It's not going to take months. It's not going to take weeks. It's going to take a short period of time, and many of them are going to go ballistic. So, I expect frequent, irregular, episodic, periods of chaos. They won't be lashing out at society at large. They will be lashing out at their abusers. . . . You will need to stand back. People will need to understand that there will be a section of the social order that is going to go crazy in anger, grief and all of this. These will be very violent reactions to having been poisoned, and some of them will be spectacularly so in terms of the violence of it. It's not going to be wise to hang out around these elite guys."
High's analysis now says at least "30 million people will die from the CV19 injections" one way or another in the next few years, and that could be a very low estimate.
Clif High talks about many subjects including the so-called "financial reset," China, Bitcoin, gold, silver (which High predicts will be more expensive that gold one day), the 2022 Election and why 28 Democrat Congressmen are not running for re-election, the crash of the financial system as we know it in 2022, the Petro dollar, inflation, why you need cash, and the Fed that High says is dying and the Fed knows it. That and a lot more in this one hour and ten-minute in-depth interview.
Join Greg Hunter of USAWatchdog.com as he goes One-on-One with data mining expert Clif High. (1.22.22)
(To Donate to USAWatchdog.com Click Here)
After the Interview:
Clif High says he no longer sells his Internet data mining reports, but he does commentary about his data mining research and gives free analysis on his Bitchute channel.
High is once again selling his Pure Sleep supplement. Click here for more information. USAWatchdog.com gets no financial compensation from sales of this product. We are simply putting this up as a courtesy to Clif High.
This segment is sponsored by Discount Gold and Silver Trading. Ask for Melody Cedarstrom, the owner, at 1-800-375-4188.