Deep State Treason Against Trump, Rate Hike Disaster, Troops Sent to Iraq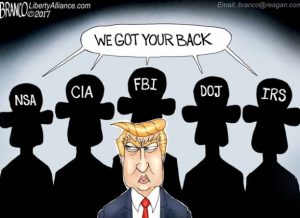 By Greg Hunter's USAWatchdog.com (WNW 275 3.10.17)
The story of Trump colluding with the Russians prior to Election Day has now been totally discredited along with the Democrats, mainstream media (MSM) and rogue members of the intelligence agencies. The story has morphed into felony leaks to try to destroy Donald Trump.  It has revealed police state tactics from an outgoing party to an incoming party.  Did the White House know about the wiretapping of the Trump campaign?  Are the leakers inside the Intel agencies going to be charged with felonies for the leaking of information to try to destroy Trump?  Can the MSM ever recover from their unfair and fake news reporting?  The answers will be coming in the weeks and months ahead, and Donald Trump will be getting the last laugh.
Wall Street says the chance of the Fed raising interest rates is now 100%. Bond King Bill Gross says, "Our financial system is a truckload of nitroglycerin on a bumpy road."  Is Gross worried about the bond market blowing up by selling off?  Sure looks that way, and rising interest rates can very well be the trigger.  This is up against a backdrop of a recently downgraded GDP to a sluggish 1.3%.
The U.S. is sending near 1,000 new troops to Syria to assist with efforts to defeat the Islamic State, or ISIS. Iran is also test firing missiles again, this time from a ship in the Persian Gulf.  Japan is thinking about adding defensive missiles to protect its coast after a new round of North Korean missiles are fired at the Land of the Rising Sun.
Join Greg Hunter as he talks about these stories and more in the Weekly News Wrap-Up.
(To Donate to USAWatchdog.com Click Here)