Surveillance on Trump Backfires, Russian Collusion False Narrative, Are Markets Topping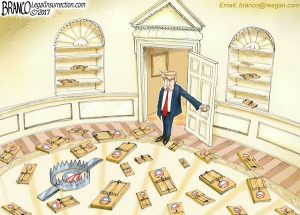 By Greg Hunter's USAWatchdog.com (WNW 278 3.31.17)
The pile of felonies against people in the Deep State that illegally released classified information, for the purpose of embarrassing and destroying the incoming Trump Administration, keep stacking up. This crime is orders of magnitude worse that Watergate.  The White House invited leaders of Congress to see documents from whistleblowers that point to improper handling of Intel surrounding the Trump team.
Meanwhile, the Democrats and their allies in the mainstream media (MSM) continue to push a false narrative of Trump and his team colluding with the Russians without one single piece of evidence of wrongdoing after 8 months of an FBI investigation. The leader of Russia, Vladimir Putin, said this week that Russian interference in the 2016 Presidential Election is "fictional, illusionary, provocations and lies . . . used for domestic political agendas."
On the economy, two headlines from ZeroHedge.com point to a dangerous top forming in the markets. One proclaims "Margin Debt Hits New Record High but Analysts Say "Don't Worry."   Another says "Fed's Dudley: 'I Don't Think We Are Removing the Punch Bowl Yet."  If these headlines are not the sign of an extreme market top, I don't know what it would take?
Join Greg Hunter as he talks about these stories and more in the Weekly News Wrap-Up.
After the Wrap-Up:
The "Early Sunday Release" will feature four time, best-selling book author James Rickards. He talks about the coming financial collapse, how assets will be frozen by the elite, what President Trump has to do now, and goes deep into gold and silver prices and why everybody needs to own some physical metal.
(To Donate to USAWatchdog.com Click Here)