Hillary Won't Win Presidency, DNC and Clinton Exposed for Rigging Democratic Primary, Economic Update and Global War Heating Up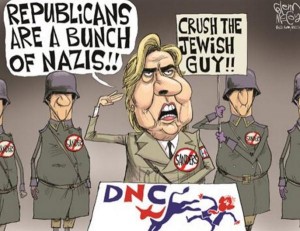 By Greg Hunter's USAWatchdog.com  (WNW 248 7.29.16)
It's now been totally exposed the Democratic National Committee (DNC) rigged the primary in favor of Hillary Clinton. This is a turning point that says no way Clinton can be elected without nearly half the Democrat voters that supported Bernie Sanders.  A WikiLeaks email dump at the beginning of the Democratic National Convention in Philadelphia showed clear evidence the DNC committed fraud and collusion against all candidates and rigged the Primary in favor of Hillary Clinton.  Outraged and disenfranchised Sanders voters are protesting by the thousands, and yet, the mainstream media, by and large, will not cover the protests taking place outside the DNC convention.  These are mostly young people who voted or worked diligently for the Sander's campaign.  Greg Hunter says Clinton will get only a small percentage of Sander's voters, and the rest will vote for Donald Trump, another candidate or simply say home.  Hillary is toast and will not become the President of the United States.
A big part of the fraud and rigging of the DNC Primary, which it repeatedly denied, came with the help of the disgraced mainstream media (MSM).  The WikiLeaks email dumped from the DNC servers showed collusion with many MSM outlets.  The Washington Post was trying to do a fundraiser for Clinton.  A Politico reporter was getting script approval from the DNC before his own editors looked at it.  Both NBC and CNN were taking suggestions and direction from the DNC to get favorable coverage for their candidate, Hillary Clinton.  In short, the entire Democrat Party Primary process was rigged from the beginning with the help of the MSM.  This is shameful conduct from groups that tout they are "news organizations" that are supposed to be fair and objective—NOT.
The economy is in terrible shape and headlines this week show that once again. Two headlines in particular that are most disturbing are: "Deutsche Bank Profit Plunges 98% And The Worst Is Yet To Come," and "Ford Plunges After Warning, We Don't See Growth, Warns US Auto Industry Has Plateaued."
War drums are beating louder with warnings continually coming for Russia and China against the United States. The Russians and Chinese have announced a joint naval exercise in the disputed waters of the South China Sea.  War tensions are rising and not receding.
Join Greg Hunter as he looks at these stories and more in the Weekly News Warp-Up.
After the WNW:
The "Early Sunday Release" will be Karl Denninger from Market-Ticker.org. Denninger contends without rule of law at the top, there will be lawlessness at the bottom.  Denninger gives dire predictions for civilization if we continue on our current lawless trajectory.