Weekly News Wrap-Up 8.22.14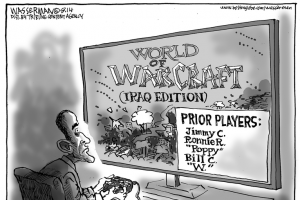 By Greg Hunter's USAWatchdog.com
This may sound strange to you, but the top story is still the Ukraine crisis because it is far from over.  In my view, the West is still inching towards war with Russia.  The building of a new natural gas pipeline through Bulgaria has been stopped for the second time this week.  Nearly 200 troops and a dozen NATO F-15 fighter jets are also going to Bulgaria for more war games.  Meanwhile, Germany's Leader, Angela Merkel, is saying that NATO will defend the Baltic States, if needed.  On top of that, the fighting in Eastern Ukraine is still going full force in several towns in Eastern Ukraine with dozens of deaths and wounded on both sides.  I am sure there is going to be lots of talks to try to make nice between Russia and Europe, but I don't see how this is going to be worked out without more violence.  Russia does not want NATO in Ukraine, and NATO has to know this.  It looks like war is intentional, or at the very least, inevitable.  By the way, McDonald's in Russia is being inspected for health violations in many locations around the country.  This is just part of the ongoing financial war.
Well, it looks like ISIS (also known as ISIL) went from "JV" (as the President said earlier this year) to a full blown global terror problem in a short amount of time.  Secretary of Defense Chuck Hagel said that ISIS poses an "imminent threat" to the world.  Hagel also said, "This is way beyond anything we have seen. We must prepare for everything. Get Ready!"  I guess that means the U.S. is going to keep bombing ISIS in Syria and Iraq.  This statement comes out during a week when an American Journalist was beheaded on YouTube.  I guess this really is a threat and one that was caused in part by the U.S. helping arm the so-called rebels in Syria.  Texas Governor Rick Perry says because the border has been left open by a flood of illegals that ISIS may already be inside the U.S.  Perry is also under indictment for abuse of power, but I think they are going to have a hard time making that stick.
The ceasefire between Hamas and Israel is off, and this time, I predict it will stay off for a while.  Hamas has been shooting more rockets into Israel, and Israel has been bombing targets in Gaza.  The latest strikes killed the wife and child of the top Hamas military leader.  Other Israeli strikes killed some top Hamas commanders.  I see no end in sight for this bloody war.
It looks like the violence in Ferguson, Missouri, is winding down.  The National Guard has been recalled, and a Grand Jury is deciding whether to charge the officer who shot an unarmed teen.  At first, I thought this was an unjust shooting, but as more and more details and witnesses come forward, I am getting a different picture.  The shooter had his eye socket crushed by the victim, and the autopsy appears to show the teen was not shot with his hands up.  This could end up being a long drawn out case where we find out the officer was justified in shooting the victim.  That's not the real take away here.  It's the militarization of the police.  Multiply Ferguson by police departments across the nation.  The Federal Government is responsible for this militarization because they have supplied the military vehicles and arms.  This is a dangerous mix when you decrease Constitutional rights and increase police power.  The real question is why all the military firepower?  What is the government getting ready for?  I think the next financial collapse will be the big one, and most will wake up and realize they will never recover.
Join Greg Hunter as he analyzes these stories and more in the Weekly News Wrap-Up.