Who Really Owns Your Home?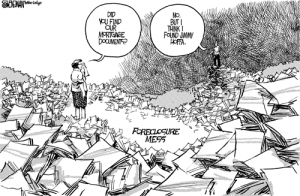 By Greg Hunter's USAWatchdog.com
There are some big questions facing the real estate market after the foreclosure fraud story exploded in the last few weeks.  The number one question for anyone who has a mortgage is "Who really owns your home?"  This would be simple to answer before the mortgage-backed security (MBS). These MBS's were mortgages that were bundled together and sold to investors such as pension and bond funds by big banks.  They were considered as safe as U.S. Treasuries but paid a much higher interest rate.  The big banks received gigantic profits from MBS's especially in the 2005 to 2008 time frame when most of the bundling was done.  It was all about the fees, and damn the paperwork.  Recently, Congressman Alan Grayson said, "It appears that on a widespread and probably pervasive basis they (the banks) did not take the steps necessary to own the note . . . which means that in 45 out of the 50 states they lack the legal right to foreclose. . . .  So they have simply created a system where servicers hire foreclosure mill law firms whose business is to forge documents showing or purporting to show they have a legal right to foreclose." I wrote about this recently in a post called "Could Foreclosure Fraud Cause Another Banking Meltdown?"
Guess what?  Some investors are already demanding their money back from companies like Countrywide Mortgage because it didn't maintain "accurate loan records," and that is "in violation of underwriting guidelines." This week, investors asked for $47 billion back in a demand letter delivered to Countrywide!  Because Bank of America bought Countrywide a couple of years ago, B of A is on the hook for the refund.  (Click here for the complete story from PR Newswire.) This kind of investor outrage is just the beginning and will only intensify in the days and weeks to come.  Will the Fed be forced to, once again, save the big banks by printing trillions of dollars?  Who knows, but the banks cannot afford to buy back all their sins without going bust!
This will, also, further cloud the chain of custody for documents that prove who the rightful owner of a property is.  Adam Levitin, a Georgetown University Law Professor, said last week on CNBC, "The problems coming out in the foreclosure process raise questions about whether, and frankly this is frightening, but whether anyone in the U.S. has clear title to their property."
Questions about true ownership are why there have been calls to have a nationwide moratorium on foreclosures, but community banks are crying foul.  According to Frank Sorrentino, a New Jersey community banker, only the big banks that securitized mortgages should halt foreclosures.   Sorrentino claims community banks didn't securitize their loans but held them in the bank.  That gives them clear access to the original documents that should allow them to foreclose on deadbeat borrowers.  Sorrentino appeared on CNBC in the same segment as professor Levitin.  He said, "When that foreclosure from the big bank winds up in court and they can't prove they have the proper documents, then the court should throw it out.  If you are sloppy at what you do, then you should pay the price." But will big banks be forced to pay the price?
A Senior Editor at CNBC named John Carney wrote a piece called "Sorry Folks, The Put-Back Apocalypse Ain't Gonna Happen." Carney wrote last Friday, "Here's what is going to happen: Congress will pass a law called something like "The Financial Modernization and Stability Act of 2010" that will retroactively grant mortgage pools the rights in the underlying mortgages that people are worried about. All the screwed up paperwork, lost notes, unassigned security interests will be forgiven by a legislative act." (Click here to read the complete idiotic CNBC article.)
It's clear Carney did not do much research to write this piece of fantasy.  For this to work, you would have to change real estate document law, tax law and criminal law.  And as Carney says, that "ain't gonna happen." Let me briefly explain.
The laws surrounding real estate documents require paper documentation signed by notaries in every single state.  There is no way Congress can wave a magic legislative wand and retroactively fix a chain of custody problem.  It is simply not practical and not legal.
When it comes to the creation of a mortgage-backed security, what is really being created is a Real Estate Mortgage Investment Conduit or REMIC.  A REMIC is also considered a trust.  There are special IRS tax laws surrounding these entities that require paper documents that prove ownership and validate the trust. Without documents, you do not have a valid trust; and without a valid trust, you will not conform to IRS tax laws.  This is a very large civil and, possibly, criminal problem for the big banks.  Congress cannot supply the banks with a "get out of jail free" card.  Financial writer Karl Denninger wrote a very good and detailed post about REMIC's.  (Click here to read it.)
Finally, William Black, a white collar criminologist and economics professor at the University of Missouri Kansas City, says, the ratings agencies gave MBS's AAA ratings "without doing anything . . . the loan files didn't even exist."  Black calls this "fraud" and "deceit," and it was known at the very highest levels of the ratings agencies.  (Click here to see Professor Black's presentation from 10/16/10.) There is no way Congress is going to pass legislation that will legalize mortgage fraud as a way of doing business.
This brings me back to my original question.  Who really owns your home?  If your mortgage was securitized (and 60 million homes were), then the answer is going to take you a very long time to get.  The foreclosure fraud story will be measured in years, not weeks or months.  One thing is for sure, the record number of foreclosures for September (102,134) is going to be a high watermark.