WNW-179-Netanyahu Iran Drama, War in Ukraine & Middle East, Global Warming–Not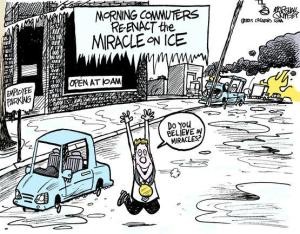 By Greg Hunter's USAWatchdog.com  2.27.15
Next week, Israeli Prime Minister Benjamin Netanyahu is set to address Congress on the deal the Obama Administration is trying to do with Iran to curtail its nuclear program. No doubt, Netanyahu will warn a deal that will eventually allow Iran to get nuclear weapons will cause big problems for the world.   There has been increasing friction and drama with President Obama over this address.  All the drama surrounding Benjamin Netanyahu's address to Congress can only mean one thing—negotiations with the U.S. and Iran to curtail its program are not going well.  Likely, there will be, once again, no deal at the end of the current deadline, which is the end of next month.  Some Democrats are threatening to boycott the address, and members of the President's staff have clearly said they are not happy with Congress for inviting the Israeli Prime Minister.  I predict this will be resolved one way or another this year.
Another top NATO general is, once again, warning about increased possibilities of war with Russia.  The most recent ceasefire was broken not long after it was instituted, and now there is no end to the fighting in sight.
In the Middle East, it looks like plans are being made to try to attack the Islamic State, or ISIS, in Iraq.  Some 25,000 regional troops are being prepared to try to take back Mosul, which is the second biggest city in Iraq.  The U.S. is not supplying troops for the assault, only military trainers.  The U.S. will supply air power, but a few weeks ago, American military experts said it would take around 80,000 top quality troops to defeat ISIS.  The operation is planned for the spring of this year.
The Federal Reserve is adamantly against any sort of audit.  Fed Chief Janet Yellen thinks the Central bank needs its independence, which some call total secrecy and non-transparent monetary policy.  When asked to provide information about a recent meeting with the White House and the Treasury, Yellen said they were "private one-on-one meetings" and releasing any information as to what was talked about would, according to Yellen, not be "appropriate."  The Federal Reserve is not federal and is, in fact, a cartel of private banks.
Finally, there is record snowfall and record cold temperatures this winter.  I think this makes it a tough sell for the man-made global warming proponents.  The facts say the climate is getting colder, and not warmer.  I think the reason the name was changed to "climate change" is because most people not only realize this fact, but are experiencing it in everyday life this winter.
Join Greg Hunter as he talks about these stories and more in the Weekly News Wrap-Up.