Attacked for Telling Truth About Deadly CV19 Vax – Dr. Mark Skidmore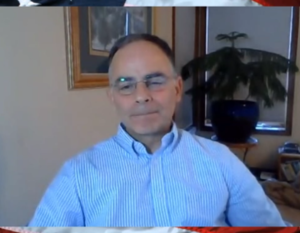 By Greg Hunter's USAWatchdog.com (Saturday Night Post)
An expert in public finance and policy evaluation at Michigan State University, Economics Professor Mark Skidmore revealed in a recent study that the CV19 bioweapon vax was debilitating and deadly from the very beginning.  His troubles began when the study he conducted showed nearly 300,000 CV19 vax deaths in just the first year of injections.   The report went viral, and it was a top trending study on social media that 17 million people read.  Dr. Skidmore has published dozens of peer-reviewed scientific papers, but this peer-reviewed study is now being retracted by a top scientific publication.  On top of that, Dr. Skidmore is being investigated academically for essentially telling the truth about the deadly CV19 vax.  Dr. Skidmore says, "I have never had anything happen like this in my career.  I have published more than 80 peer-reviewed papers and never had a retraction or anything like this.  Peer review is rigorous.  An editor (at BMC Infectious Diseases) made a decision to publish, and she was courageous.  She had to have known this had potential to cause controversy, and it has.  That's okay.  There are people attacking me personally, and attacking the integrity of the process and my integrity.  They are challenging the methods. . . . I asked about Covid illness issues, and there was not one inquiry about that.  But, if I asked about Covid vaccine issues, it's just the questions about that, and was it legitimate?"
The paper was scientifically peer reviewed and published in late January 2023.  Now, for some unknown reason, BMC Infectious Diseases has recently retracted Dr. Skidmore's study that showed a huge number of deaths that proved the CV19 vax program was an obvious global disaster from the very beginning.  (Dr. Skidmore refutes the retraction here.)  Did Dr. Skidmore get it right, or is his study dramatically flawed?  Dr. Skidmore points out, "Right now, you can go on the CDC website, and you will learn that the federal government and the CDC has acknowledged a total of nine fatalities from the Covid vaccines—nine.  I have, what I think, is a rough estimate of 280,000 (deaths from the CV19 bioweapon/vax in 2021).  One of my mentors in graduate school said it is better to be generally correct than precisely incorrect.  I think I am generally correct.  Nine is very precise.  I think I am a lot closer to being right than the CDC."
In closing, Dr. Skidmore says, "We don't need any more surveys.  I think we need actual data to fatalities linked to the CV19 vaccines, and we need pathology reports on people on a large scale.  We need more transparent clinical work.  One last thing, zero dollars have been distributed from the federal government for vaccine injury or death claims—zero.  We know these people who have been harmed and their families need help, and zero dollars for vaccine injury claims have been dispersed so far.  So, we need help for these families."
Dr. Skidmore has been blowing the whistle on deaths and injuries from the CV19 bioweapon/vax since the beginning.  He did so on USAW more than a year ago in a post called "FDA, CDC Lying About Vax Deaths & Injuries – Mark Skidmore." 
There is much more in the 49-minute interview.
Join Greg Hunter of USAWatchdog.com as he goes One-on-One with Michigan State University Professor Mark Skidmore, founder of Lighthouse Economics.
(To Donate to USAWatchdog.com Click Here)
(Tech Note: If you do not see the video, know it is there. Unplug your modem and plug it back in after 30 sec.  This will clear codes that may be blocking you from seeing it.  In addition, try different browsers.  Also, turn off all ad blockers if you have them. All the above is a way to censor people like USAWatchdog.com.)
After the Interview:
Dr. Skidmore has a website called Lighthouse Economics, and you can find it at MarkSkidmore.com.  Dr. Skidmore is a prolific writer, and his work and analysis are free to the public.
To read Dr. Skidmore's "The Retraction of the Skidmore (2023) Article on Covid Vaccine Uptake and Injuries," click here.
To donate by snail mail, use the address below: (This is the only way to support Dr. Skidmore at this time.)
Lighthouse Economics
P.O. Box 114
Bath, MI 48808
This segment is sponsored by Discount Gold and Silver Trading. Ask for Melody Cedarstrom, the owner, at 1-800-375-4188.