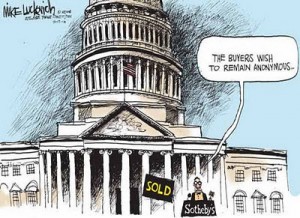 By Greg Hunter's USAWatchdog.com  
Now that the mid-term elections are over, it is time to get back to reality.  Just because House Minority Leader John Boehner is taking over for Nancy Pelosi as Speaker of the House doesn't mean the economy will get better.  Yes, the Republicans can now, pretty much, put the kibosh on the Obama agenda with big victories in the House and Senate, but is that enough to turn things around?  In a word–no. 
The economy is functioning so poorly the Federal Reserve has widely telegraphed it will start another round of Quantitative Easing. It has been jokingly called "QE2" by the financial press.  What is QE2?  It is more Fed money printing to finance the country and revive the economy.  This kind of QE has never been done before in human history on this scale.  How much money will the Fed print?  The consensus among many economists is $500 billion, but that is just a start. Yesterday, Reuters warned, "Fed Chairman Ben Bernanke has said long-term asset purchases are an effective way to lower borrowing costs when rates are near zero, but a program of this size and scope is untested and many worry further expansion of the Fed's balance sheet sets the stage for inflation or another asset bubble."  (Click here for the complete Reuters story.)   
The Fed will start small but leave its plan of action open-ended.  In other words, it will commit to print as much as needed to buy treasuries and mortgage-backed securities to get the economy going again. One senior currency trader at HSBC, Daniel Hui, said on Bloomberg last week, "We think the eventual expansion of QE could be as large as $2 trillion if the Fed is serious about preventing deflation."  (Click here for the entire Bloomberg interview.) 
Citywire, a British publication, is one of many media outlets reporting that Goldman Sachs wants twice that amount of QE.  It reports, "The bank said that based on its own analysis the Fed ought to pump in a further $4 trillion in order to achieve the monetary easing the economy needs. . . "  (Click here for the complete Citywire story.)   
Former Bush economic advisor Marc Sumerlin talked about the upcoming Fed QE about a month ago on CNBC, "To me, it starts to get interesting at six to seven trillion dollars," Sumerlin said.  (Click here for the CNBC interview and my post called "Could a Dollar Crash Be Coming Soon?")   
Renowned gold expert Jim Sinclair (JSMineset.com) has predicted many times over the last few years that the Fed will "QE to infinity."Don't laugh, Sinclair is not kidding.  The banks are in deep financial trouble again because of "Foreclosuregate," and the Fed will do whatever is necessary to bail out members of its banking syndicate.
The rest of the Fed QE plan is not so easy to forecast.  Even economist John Williams of shadowstats.com cannot predict the QE2 game plan.  In his latest report, published last Friday, he says, "The games-playing and market manipulation here has gotten so clever that it just might backfire, with too little monetization possibly crashing stocks, or too much monetization boosting gold and crashing the U.S. dollar and stocks."   
What Williams is most worried about is a sudden collapse of the U.S. dollar.  You see, tax receipts are plunging right along with the bad economy.  Meanwhile, wild spending for bailouts, stimulus and war has put America in record debt.  Officially, it is north of $13.7 trillion.  The Truth 2010, a U.S. debt website, shows a debt clock with $75 trillion increasing by thousands of dollars by the second.  Check out the clock for yourself.

So, either the U.S. dramatically cuts spending or the Fed will be forced to print money and buy our own treasury debt to fund the country.  When a country buys its own debt with money printed out of thin air it's called monetization.  Here's Williams' analysis, "What is not yet widely recognized is that the Fed will have to monetize Treasury debt soon enough, regardless of any action taken or not taken next week by the U.S.central bank to rearrange the proverbial deck chairs on the Titanic.  Monetization will be forced in an effort to prevent a systemic collapse . . . as the unexpectedly weak U.S. economy spikes the federal deficit, impairs Treasury fundings and the combination of factors pushes the U.S. dollar into a likely selling panic."   
The Fed has stated many times, over the past several months, it wants inflation (rising prices) and not deflation (falling prices).  I think the Fed will get what it wants, but if a "dollar selling panic" hits the world markets, inflation could go haywire.  Williams predicts a " Great Collapse" and a " hyperinflationary great depression."  Williams is an economist with a stellar track record.