Cheater in Chief, Political Persecution, Biden Tanks Economy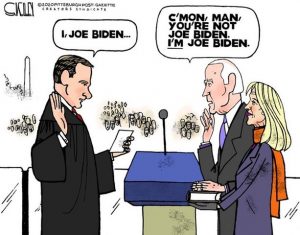 By Greg Hunter's USAWatchdog.com (1.22.21 WNW 465)
 Joe Biden was sworn in as 46th President of the United States, but many still believe that he cheated his way in.  Many also think there is no way Biden, who largely did not campaign, received more votes than Hillary Clinton and Barack Obama.  There is lots of evidence of massive cheating in the 2020 Election, and, yet, the mainstream media, Democrats and key Republicans tell the public there was no cheating at all.  Also, the outgoing Director of National Intelligence (DNI) John Ratcliffe reported that China did, in fact, interfere with the 2020 Election.  This is even more evidence of cheating, and this data was covered up by senior CIA officials who sat on this stunning proof.  Maybe this is why CIA Director Gina Haspel resigned abruptly this past week in disgrace.
Former CIA Director John Brennan, a key player in the failed coup of former President Trump, is spilling the beans on the Biden Administration's plans to "root out" political opposition.  Now that's what I call "healing and unity."  Looks like the FBI is more than happy to be the point of the spear to persecute Trump supporters while BLM and Antifa commit all the violence they wish.  Hey FBI, how does it feel to now be considered the bad guys?
First day in office, Biden got to work destroying jobs in America.  He killed the Keystone Pipeline along with getting back into the job killing Paris Climate Accord.  Of course, this should be a treaty ratified in the Senate, but McConnell is too busy worrying about impeaching former President Trump for a second time even though Trump is now officially out of office.  The RNC is tanking right along with the Biden economy.  Voters will not forget what the backstabbing Republicans did to "We the People" and Donald Trump by not fighting the 2020 Election fraud that reversed a landslide victory for Trump.
Join Greg Hunter of USAWatchdog.com as he talks about these stories and more in the Weekly News Wrap-Up.
(To Donate to USAWatchdog.com Click Here)
After the Interview:
Former Assistant Treasury Secretary and award winning journalist Dr. Paul Craig Roberts will be the guest for the Saturday Evening Post.