Dems Dumb & Dumber on Economy Killing Lockdowns – Martin Armstrong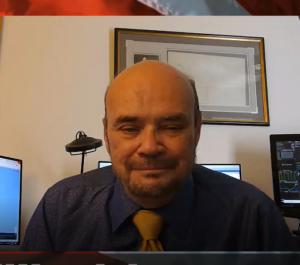 By Greg Hunter's USAWatchdog.com (Saturday Night Post)
Legendary financial and geopolitical cycle analyst Martin Armstrong says parts of the global economy have been permanently destroyed, and nowhere is that more apparent than job losses. Armstrong explains, "You have such a collapse in the infrastructure of the world economy. You have effectively 300 million people who have lost their jobs. On top of that, you have these negative interest rates where nobody is buying European bonds where the European Central bank has been buying them all. They can't raise interest rates because their own portfolios blow up. So, they are grasping at straws, at this point, to try to appear to be doing something. Although the Fed printing a $120 billion a month sounds like a lot of money, it's still not going to produce inflation. We have such a contraction in the global economy, the losses are amazing. . . . Driving down the streets in Hollywood the streets are full of people in tents. The homeless have skyrocketed dramatically, and mainstream media (MSM) won't talk about this. It definitely seems this has all really been just political. There is just no justification for lockdowns. . . .We have such a massive contraction with 60% of small businesses that will not reopen in America, and we are not through this yet."
Armstrong contends the lockdowns and reaction to CV19 in big liberal Democrat controlled cities were a much bigger problem than the virus itself. Armstrong explains, "There is significant risk, and, economically, we are still in a major contraction mode. That can continue until 2022. On the other hand, you have food shortages. The number of oil wells in production in Texas alone, for example, went from 400 to 100. So, the social distancing and lockdowns have also created shortages in the commodities sector. The inflation we see going into 2024 . . . will be coming from a shortage of supply than in the speculative demand like we saw in the 1970's. . . . Energy prices are going to rise, not fall."
Armstrong goes on to say, "You have a contraction in the capital formation, which is creating this deflation economically, but, at the same time, they have created shortages . . . and that has created escalating prices. So, food prices are rising exactly when you are throwing everybody out of work. You have food lines showing up for the first time since the Great Depression. Honestly, the management of this is more like dumb and dumber."
On the November Election, Armstrong says, "The Election in the United States is the most important point globally, and everybody is looking at it globally. Outside the United States, Trump is much more popular than inside the United States. They look at him as Trump is the only person that is standing against these crazy people. . . .If anybody else did what Bill Gates did, they would be in prison for multiple lifetimes."
Armstrong thinks many European bonds will never be fully paid back. They will be a default, but it won't be an outright default. Armstrong explains, "So, in Europe, all the bonds they have bought, they have to constantly keep rolling them over in addition to what they buy. It's not sellable. The proposal in Europe, behind closed doors, is to convert them to 'perpetual bonds.' It's a way to default. So, effectively, they will just give you the interest, and you can never redeem them."
As far as the stock market goes, Armstrong says, "Rich people are selling stocks again." Remember, this is just like what happened just before the CV19 lockdowns.
What can the common man do to cushion from what is coming? Armstrong says, "Buy canned food because food prices are going up."
Armstrong also like soft commodities, energy and gold and silver, especially silver. Armstrong says, "People are not going to know what a silver bar is . . . I would buy silver coins that are dates 1964 or earlier. . . . The average person can look at that and know what it is. I would recommend that more than silver bars. I would say silver would actually be better (than gold) because it's a smaller denomination that can actually be used."
Join Greg Hunter of USAWatchdog.com as he goes One-on-One with cycle expert and financial analyst Martin Armstrong.
(To Donate to USAWatchdog.com Click Here)
After the Interview:
There is some free information, analysis and articles on ArmstrongEconomics.com.
To get an e copy of Armstrong's latest book "The Cycle of War and the Coronavirus," click here.
For Armstrong's book "Manipulating the World Economy," click here.
To become a subscriber for detailed research the Socrates program offers, click here.
To keep up with upcoming events by Martin Armstrong, click here.
There is also other research and analysis you can purchase from Martin Armstrong by clicking here.