Desperate Push for Nuke Deal, Economic Warning Signs, GOP Debate, California on Fire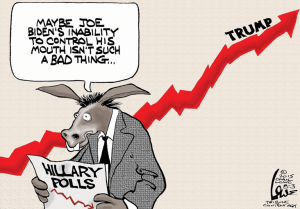 By Greg Hunter's USAWatchdog.com (WNW 202 8.7.15) 
Congress is in recess, but that is not stopping President Obama to continue to push Democrats in both houses in Congress to vote yes in the deal to curtail Iran's nuclear program. The President surely knows it will be voted down by the Republicans and many Democrats in the House and Senate. The only question: Will the President have enough votes to sustain a veto? It is a foregone conclusion that the deal will be voted down and the President will veto it. If his veto is not overridden, then the deal will go through. One big problem with getting the votes are the secret side deals that Iran has with UN inspectors. The other problem is that even unclassified information about the deal is not being released by the White House to the public. If it were such a great deal, why so secret, which is the same thing I said about the Republican sponsored secret trade deal called the Trans Pacific Partnership (TPP). It will all come down to a veto or a veto override.
Plenty of economic warning signs out there such as this warning from ADP, the payroll company. The unemployment rate would be around 23% if it were calculated the way it was by the government in 1994 and earlier. The stock market has taken about a 900 point fall since its peak in May. Gregory Mannarino of TradersChoice.net said the market had peaked about that time. He is a regular guest on USAWatchdog.com. Also, in the stock decline are some big names such as Disney and Apple. Oil and commodities are also under extreme pressure right along with the Chinese stock market. Dr. Marc Faber said recently that the U.S. stock market could take a 40% plunge. Then there was this story in USA Today, and the headline said "JPMorgan Tops U.S., International Bank Risk List." I thought, why they are printing a headline like this now? USA Today has been cramming the so-called recovery story down our throats for years. JPMorgan topping the list of risky banks does not sound like we are heading for a recovery.
California is on fire, and the drought conditions are not getting any better. There are reportedly two dozen wild fires burning in California. There are also reports of so-called "dry thunderstorms," meaning lots of wind and lightning but very little rain. In March, NASA estimated that California has about a year's worth of water left. I am not seeing many reports of rain there or in most places out west. It's very ominous, and it is not getting better—at all.
The Presidential debates for the GOP were held, and to that I say great. We're 14 months away from the November election. I thought FOX News was smart in creating two debates so all candidates could be seen and heard. I think the debates are as much about the Vice Presidential candidate as who is running for President. There is not going to be two Anglo white guys on the GOP ticket this fall. Not going to happen. The top picks for the VP position, if they do not get the nomination, are Cruz, Rubio, Carson, Jindal and Fiorina. I think the bigger story is the total lack of debates for the Democrats. There are several candidates that are and probably will run for the Democratic nomination. Hillary Clinton has many problems and baggage that is not getting resolved. One big problem is the FBI investigation into her emails and how classified documents were handled. I still say the Democrats should consider some other candidates. Hillary is not going to make it.
Join Greg Hunter as he looks at these stories and more in the Weekly News Wrap-Up.