Could America be Pushed over the Economic Edge?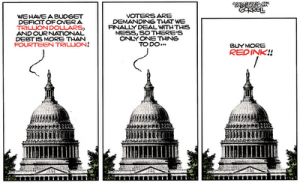 By Greg Hunter's USAWatchdog.com
It's official.  The U.S. transferred command of the Libyan no-fly-zone to NATO yesterday, but don't think that ends U.S. involvement. Crienglish.com is reporting Secretary of State Hillary Clinton will be heading to London next week to discuss and coordinate military strategy.The story said, "Having eliminated Libyan air defenses, U.S. military officials said the campaign has entered a second phase that will focus on decimating Libyan leader Muammar Gaddafi's ground forces. Coalition air strikes also increased over Tripoli, capital of Libya, with warplanes targeting fuel depots and local military installations." (Click here for the complete crienglish.com story.)
So, it looks like America will still be on the hook both militarily and financially.  This appears to be a political move to give the appearance of less U.S. involvement in the Libyan war.  Nothing could be further from the truth because, the fact is, without the U.S. and its military might, the entire operation would fall apart.  It has been reported that some UK Ministers say this intervention in Libya could last "30 years."  Yes, you read that right—30 years!  The Daily Mail reported this week, "Asked for an estimate, British Armed Forces Minister Nick Harvey said: 'How long is a piece of string? We don't know how long this is going to go on.  'We don't know if this is going to result in a stalemate. We don't know if his capabilities are going to be degraded quickly. Ask me again in a week." (Click here for the complete Daily Mail story.)
Many are not happy about how Libya is going.  There are plenty of reports of infighting in NATO over how to proceed.  The Germans want nothing to do with the Libyan war and have pulled out.  Russian Prime Minister Vladimir Putin called the no-fly-zone over Libya a "crusade." Online Journal reported Tuesday Putin said, "The Security Council resolution is deficient and flawed; it allows everything and is reminiscent of a medieval call for a crusade," Putin told workers at a ballistic missile factory in the Urals region. "It effectively allows intervention in a sovereign state."  (Click here to read the entire Online Journal post.)
If this bothers Mr. Putin so much, why didn't he have his U.N. Ambassador simply veto the resolution?  Instead, Russia went along with the resolution by abstaining from the vote as did four other countries.  Is Russia giving the U.S. enough rope to hang itself?  The U.S. is already stuck in quagmires in Iraq and Afghanistan.  Consider the spike in fuel prices because of revolutions and unrest in the Middle East and North Africa that are far from over.  Could one more war push America over the financial edge into economic collapse?
Sound far-fetched?  Not if you listen to JR Nyquist.  He writes about the economy and politics and recently did a story highlighting a Pentagon report called "Economic Warfare."  Nyquist writes, "The report suggests that unknown parties covertly exploited vulnerabilities in the U.S. financial system to help trigger a crash as part of a three-phase process which is yet underway. The report admits that contributing factors, such as high-risk mortgage lending and poor federal regulation, were at work. Nonetheless, the report says there is evidence that foreign agencies have also been at work, attempting to magnify U.S. economic difficulties. Supposedly, what the U.S. faced in 2008 was a "normal downturn" which should not have grown into a "near collapse" of the financial system."  (Click here to read the entire JR Nyquist post.)
Maybe the U.S. will not need a push by the invisible hand of economic warfare as it could fall into an economic collapse and nightmare with a push from the calamity in Japan.  According to Jim Willie at Goldenjackass.com, the Japan disaster will cause many future economic problems.  One big one is Japan will be forced to sell Treasuries and other bonds to pay for reconstruction.  I touched on this recently, but Mr. Willie goes into great detail on how the Japan tsunami will cause an enormous financial tsunami.  The rest of the world will have to soak up the Treasury debt Japan unloads.  Mr. Willie wrote in his latest post, "QE will be global next.The central banker pact not only endorses the monetary hyper-inflation by the USFed, it extends it globally with a loud ring. . . .A vicious cycle has begun to take shape. Inflation will originate from the four corners of the earth, come in many forms, and have staggering effect on both the global recession and global price inflation. Assets and incomes will go into worse decline, while commodities including Gold & Silver rise powerful. Actually, Gold & Silver are money, the great anti-bubble. The USTreasury Bond will be under absolute siege for months until a climax conclusion . . ." (Click here to read the complete report from Mr. Willie.)
Japan will also need both hard and soft commodities to rebuild and feed its people.  This demand will put more upward pressure on prices for just about everything, and that includes interest rates.  America will be especially hard hit.  Folks should be heading for much higher ground, so as not to be swept away by waves of inflation.