Epstein Sex Web Exposed, Trump Social Media Summit, Inflation Coming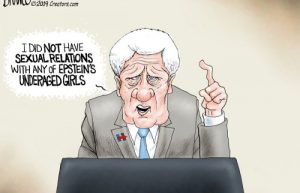 By Greg Hunter's USAWatchdog.com (WNW 392 7.12.19)
Billionaire money manager Jeffery Epstein has been arrested for sex trafficking and other charges in New York this week. He reportedly catered to top world leaders, politicians and business executives on his private island, reportedly called "Orgy Island." The case is way more than one billionaire's lust for underage girls. It could deliver a significant blow to the global elite of a magnitude that has never happened before in history.
President Trump held a "Social Media Summit" at the White House. In reality, it was a meeting of victims of big tech censorship, such as conservatives and pro-life groups that big tech routinely blocks, shadow-bans or outright de-platforms because it does not like their views. Trump is getting ready to level the social media playing field well ahead of the 2020 Presidential election. Big tech executives will meet in the White House in a few weeks with the President.
The Fed signaled today it will cut rates in a few weeks. I thought the economy was great. What happened? Apparently, the economy is not so great, especially abroad. The ECB (European Central Bank) is going to print up a fresh 2.9 trillion euros to combat deflation and a downward spiraling economy. It seems the entire world, including the USA, is seeing signs of the economy slowing down dramatically.
Join Greg Hunter of USAWatchdog.com as he talks about these stories and more in the Weekly News Wrap-Up.
(To Donate to USAWatchdog.com Click Here)
Renowned geopolitical and economic cycle analyst Martin Armstrong will be the guest for the Early Sunday Release.