Financial System Fake La La Land – Dr. Mark Skidmore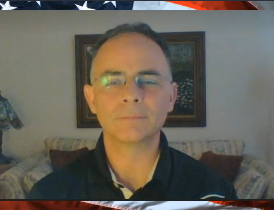 By Greg Hunter's USAWatchdog.com (Saturday Night Post)
Michigan State Economics Professor Mark Skidmore revealed three years ago there was $21 trillion in what he called "Missing Money" from the Department of Defense (DOD) and Housing and Urban Development (HUD).  To hide what was going on with the federal books, Congress made all government accounting a national security issue, making it impossible to get real accounting of money "We the People" pay in taxes.  Now, even more unofficial and unaccounted for cash has been revealed from the DOD.  It's an eye popping $94 trillion from the years 2017 to 2019.  So, add in the $30 trillion in official debt, and that means there is at least $145 trillion in overt and covert money floating around in the federal government, not counting Social Security and Medicare commitments.  This story sounds like a fantasy or a cartoon, but it's totally backed up with facts you will never hear on the legacy media.  Dr. Skidmore, who is an expert in public budgets, explains, "In my mind, it does not follow the principles laid out in our Constitution in accounting for revenues coming in and expenditures going out.  It's fraudulent in my mind."
The entire accounting system of the federal government is fraudulent?  Dr. Skidmore says, "I think it is.  It doesn't have any integrity.  The federal government can modify the financial statements for the public, and they are not going to tell you how or to what degree.  So, you get a financial statement or a report that's available to the public, but it means nothing.  What does that mean?  It's totally fraudulent.  It's fake.  We are in La La Land.  I'm just a normal professor of economics who has a background in budgeting, and I am just stating the obvious.  It's not rocket science.  I am just not pretending.  I am just saying what it is."
What are the risks to the public?  Skidmore says, "The risks are really kind of unknowable.  The derivatives market is so enormous and so complexed, and who knows if some of the money that we are not able to account for in the government books is pushing into a quadrillion dollar derivatives market?  We don't know that.  It could be.  It would be small potatoes in quadrillions (in the derivative market).  It's incomprehensible. . . . My gut tells me this ends awfully with a very abrupt disruption of some sort that could include a transition to some sort of new financial system, and potentially a much more draconian system."
In closing, Skidmore says, "For me, we are talking about a whole bunch of money we don't know about. . . . You have about $115 trillion unsupported unverified transactions that we can't know about and about $30 trillion in official debt.  Also, we still have made promises in the form of Social Security and Medicare that are underfunded. . . You have a $100 trillion to $200 trillion depending on the assumptions you make, and we know that is unsustainable, as well.  We are burning through it faster than we anticipated because of Covid and other things. . . . It's so out of whack it's like a cartoon."
Join Greg Hunter of USAWatchdog.com as he goes One-on-One with Michigan State University professor Mark Skidmore.
(To Donate to USAWatchdog.com Click Here)
After the Interview:     
Dr. Skidmore has a new website called Lighthouse Economics, and you can find it at Mark-Skidmore.com.  Dr. Skidmore is a prolific writer, and his work and analysis is free to the public.
To donate to Dr. Skidmore to fund Lighthouse Economics click here.
To contact Dr. Skidmore click here.
This segment is sponsored by Discount Gold and Silver Trading. Ask for Melody Cedarstrom, the owner, at 1-800-375-4188.