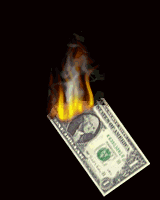 By Greg Hunter's USAWatchdog.com 
We have long been told that gold is a commodity–that it is no different than a bushel of corn or a barrel of oil.  In many newspapers, it is listed under the commodity section.   With the advent of the Federal Reserve's recent announcement of "unlimited" Quantitative Easing (QE) or money printing, that has changed.  The view of gold as a commodity has circled back to what banker JP Morgan proclaimed to Congress in 1913, "Gold is money and nothing else."   Many folks in the blogosphere have long agreed with the original JP Morgan.  It was the rest of the fiat world that wanted us all to believe the enormous lie that gold was only a commodity and not money.  Never mind that every central bank on the planet holds gold (and have been buying gold hand over fist for the past few years).    
Now, a modern day version of JP Morgan is telling the world, "Gold is a currency."  That's what $120 billion hedge fund manager Ray Dalio said recently about the yellow metal.  Dalio, founder of Bridgewater Associates, doesn't give many interviews.  So, I find it very telling that when he does speak, he says, "It's not sensible not to own gold."  When asked if he owned gold, he quickly replies, "Oh yeah, I do," and said people should have "10%" in their portfolios.  (Click here to see the complete Ray Dalio interview.)  This is what Mr. Dalio said the day before the Fed announced its now infamous "unlimited" QE. 
Just last week, Dalio was riding the gold band wagon again and told CNBC the yellow metal "should be a part of everybody's portfolio to some degree, because it diversifies the portfolio. It is the alternative money."  (Click here for the complete CNBC story.)  I find it interesting the man Time Magazine included in its 2012 "100 most influential people in the world" is sounding this warning.  I can only speculate, but I wonder what he sees.  Is it a banking holiday?  Is it a Treasury bond bust as holders of U.S. debt sell in a panic?  Does he see inflation or hyperinflation down the road?  I wonder if he is anticipating a new currency, or a global derivatives meltdown that leads to a worldwide depression.  Maybe it's all of the above.  I don't really know what he sees, but he sees something, and gold is his choice to counter a black horizon. 
You would expect someone like Jim Sinclair to talk up gold.  His nickname is "Mr. Gold."  And, if there were a "Mr. Silver," that would be Eric Sprott of the $10 billion Sprott Asset Management.  Sprott is heavily invested in physical.  Both men have been instructing investors to buy precious metals for more than a decade, and BOTH have been spot-on.  For these guys, it was never a simple commodity play, but a currency play against an enormous amount of global money printing.  For years, Sinclair has said the central banks would issue "QE to infinity."  The Fed calling the most recent round of money printing "unlimited" looks like a direct hit to me.  
Don't get me wrong, Ray Dalio is a very good investor, but he is hardly considered a legendary gold investor.  I cannot remember a time when he was touting gold like he is now.  Why would he do this?  I think it is a matter of respect and trust for Mr. Dalio because he sees something very big coming.  Dalio can't do what the mainstream media (MSM) did in the wake of the 2008 meltdown.  In almost complete unison, the MSM said, "Nobody saw it coming."  It's Dalio's job to see "it" coming, and he can't sit quietly by when something this big is barreling down the tracks.  He has to be able to say, in the future, he saw it coming and warned people to protect themselves.  Call it his civic duty and a career prolonging move.  It's a twofer!   
The last time Dalio said something big was coming, he was warning about the financial meltdown of 2008.  We all know how that story ended.  In July of 2011, Dalio said in the New Yorker, "I think late 2012 or early 2013 is going to be another very difficult period." (Click here to read the complete New Yorker post.)  I think that is a nice way of saying another meltdown is coming, and this time, you better have some gold or you're screwed. 
Why else would a top hedge fund manager tell people to buy some ancient relic and just hold it?  Warren Buffett isn't doing that.  After all, gold pays no dividend.  It pays no interest.  You must pay for secure storage, and it cannot magically split like a share of common stock.  If gold is a currency, why not just hold U.S. dollars?  That is a currency, too, isn't it?  Holding gold is a very defensive play.  So, my question is what is Dalio really worried about?  I don't know, but he is so on edge, that he's saying "gold is a currency," and I think that means gold has turned a psychological corner.