Impeachment Hoax Continues, Indictments Coming, Economic Update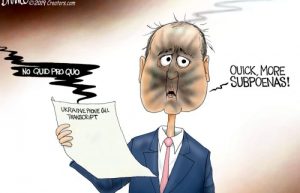 By Greg Hunter's USAWatchdog.com (WNW 409 11/8/19) 
The totally lopsided and unfair so-called Impeachment Inquiry by delusional Democrats had another week of trying to frame the President for yet another crime he did not commit. This is much the same as the Trump/Russia collusion hoax. They made it up then, and they are trying to make it up again all in effort to get rid of a duly elected President. This is why it The Dems made the process unfair with much of it done in secret. It gives them a better chance of framing President Trump.
According to top legal expert and former federal prosecutor Joe di Genova, indictments are coming for high ranking FBI and DOJ players in the Russia collusion hoax. You think this might be the reason the Deep State is trying so hard to knock President Trump out of office in another hoax? The crime, sedition and treason goes deep and to the very top of the Obama Administration.
How is the economy doing? If you look at the record high U.S. stock market, you might think it is pretty good, but top money managers say it's not nearly as good as you are being told.
Join Greg Hunter of USAWatchdog.com as he looks at the top stories in the Weekly News Wrap-Up.
(To Donate to USAWatchdog.com Click Here)  (Up-Date: YouTube gave monetization to this video early Saturday morning.  Enjoy.)
After the Interview:
Rob Kirby interviewed Greg Hunter this week about the revelation from Project Veritas that ABC News spiked a Jeffery Epstein story it had three years ago.  Is this the death of the mainstream media?  Rob Kirby discusses this with Greg Hunter who worked at ABC News as an investigative correspondent for more than 5 years.  Here's the link to "Project Veritas and the Death of the Mainstream Media."
Warren Pollock will be the guest for the Early Sunday Release. A few years, ago when all was quiet with China and trade, Pollock warned that China was the big problem for America and not Russia. He was correct. See what big trends he is spotting now for 2020 and beyond.