Iran Nuke Lies, Rudy to the Rescue, Dems Are Socialists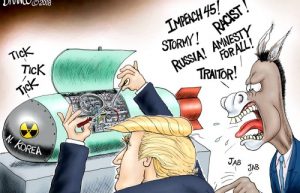 By Greg Hunter's USAWatchdog.com (WNW 333 5.4.18) 
Israeli Prime Minister Benjamin Netanyahu is out with massive amounts of new evidence that Iran does have a nuclear weapons program. In a press conference this week, Netanyahu said Iran has been lying about the military application of its nuclear program for years.  He also says the so-called Iran nuke deal to curtail Iran's nuclear ambition is "based on lies."  Is this going to lead to war?  Is Trump going to pull out of the deal which Iran did not sign?
Former New York City Mayor and federal prosecutor Rudy Giuliani has signed onto the Trump legal team to protect the President from the witch hunt of the debunked Russian collusion story. Democrats and so-called "Deep State" forces are trying anything and everything to remove Trump from office.  Special Prosecutor Robert Mueller is supposed be looking into Russian interference in the 2016 election.  He's been trying to frame Trump for crimes he did not commit, while ignoring real crime of the FBI, DOJ and the Clinton-run DNC.  Looks like a constitutional crisis is brewing between team Trump and the criminals trying to overthrow a duly elected President.
Did you know Democrats are socialists? Well, Hillary Clinton finally made it official by saying, "41% of Democrats are socialists."  Clinton considers herself to be a capitalist, and she says this is one of the many reasons why she lost in 2016.  The list of excuses grows every week.
Join Greg Hunter as he give his take on the week's top stories in the Weekly News Wrap-Up.
(To Donate to USAWatchdog.com Click Here)
After the Wrap-Up: 
Best-selling book author Nomi Prins will be the guest for the "Early Sunday Release." Prins will talk about her new book "Collusion: How Central Bankers Rigged the World."  How much longer will the "rigging" go on?
To see the story that contains a copy of the letter by the John Kerry State Department admitting there is no signed deal with Iran Click here.