Media Spin Will Not Stop the Coming Downturn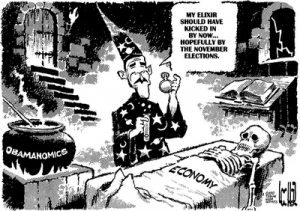 By Greg Hunter's
There is hardly a day goes by I don't hear some spin about the economy and how the so-called "recovery" is progressing.  Last week's job numbers is a classic example.  It seems the jobless claims fell to an eight week low.  Here's how the Washington Post reported the news, "The number of new jobless claims filed last week dropped by 21,000 to 454,000, the lowest number in eight weeks.  Even more promising, the number of continuing claims dropped by 224,000 to 4.4 million."  (Click here for the entire article.)  This article and others that reported the story started with Bureau of Labor Statistics hype and ended with hope the job market is turning around.
John Williams at shadowstats.com is just as disappointed with the mainstream media spin as I am.  Williams is frequently interviewed by financial news networks and major publications.  I interviewed him during my days at CNN, before the meltdown Williams predicted was coming. (Click here for William's 2008 prediction on CNN.)
In his latest report, Williams writes about last week's jobs numbers and media hype.  He says, "More recently, following an interview on a major cable news network (not CNBC), I was advised off-air by the producer that they were operating under a corporate mandate to give the economic news a positive spin, irrespective of how bad it was.  I know from other personal experiences that these circumstances are commonplace. A simple example of recent distortion was . . . positive hype over an unexpectedly-low weekly jobless claims number. Widely known — at least I have discussed the matter frequently — is that the Department of Labor cannot adjust the weekly claims numbers meaningfully for regular seasonal variations. Accordingly, reporting around holidays invariably results in unusually large and unexpected swings in the weekly numbers. Yesterday's data covered the onset of the Fourth of July weekend. It would not be at all unusual to see a similarly-meaningless reverse-gyration in next week's release."    
I say, all of this "good news" was reported when there really was no news at all.  The real news is a downturn that is now hitting the U.S.  Williams has been predicting this for months, and we are seeing confirmation.  Williams says, ". . . the economy has entered a phase of re-intensifying downturn, a circumstance that may be referred to more popularly as renewed recession, or a double-dip recession. "    
In his latest Op-Ed column, even economist Paul Krugman says, ". . . we already have painfully slow growth, very high joblessness, and intractable financial problems. And what is the Fed's response? It's debating — with ponderous slowness — whether maybe, possibly, it should consider trying to do something about the situation, one of these days. . . . Washington seems to feel absolutely no sense of urgency. Are hopes being destroyed, small businesses being driven into bankruptcy, lives being blighted? Never mind, let's talk about the evils of budget deficits.  (Click here to read Krugman's complete Op-Ed article.)   
It is no secret that Mr. Krugman wants more money printing and deficit spending to "fix" the bad economy.  Whether you like this kind of action or not, people like Mr. Krugman are listened to by government officials–especially ones who want to win elections, like the one coming in November.
Some banking analysts are betting that deficit and money printing policies are going to win out.  "Get ready for the cliff-edge," warned Royal Bank of Scotland credit chief Andrew Roberts in a note to clients late last week.  He said "monster" quantitative monetary easing (money printing) is coming and that investors should "Be long gold. Think the unthinkable.  We cannot stress enough how strongly we believe that a cliff-edge may be around the corner, for the global banking system (particularly in Europe), and for the global economy (particularly in the US/Europe)," Roberts added. "This all sounds somewhat doomsdayish, so we should update how the real economy/banking is panning out for us. It is saying: the end-game approaches."  (Click here to read the complete article.)   
In the "end-game" it looks like inflation is going to be a major player. The only question is how long will it take to play out?