Record High Gold all about Fear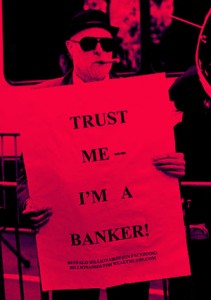 By Greg Hunter's USAWatchdog.com 
There has been one record high after another for gold.  They say the markets are ruled by fear and greed.  In this case, it is simply fear that is driving the yellow metal higher day after day.  There is a perfect storm of doom in the economy right now.  The biggest problem is debt.  It just went parabolic with the revelation that the banks are stuck with trillions of dollars in worthless mortgage backed securities.  I wrote all about this Monday in a post called "Could Foreclosure Fraud Cause a Banking Calamity?"  The U.S. government is going to come to the rescue and bailout the banks once again.  The problem is so enormous that a government bailout will not be big enough to fix the problem, but merely put off an inevitable financial collapse.  This will cause the dollar to die a not so slow death and cause massive inflation (or hyperinflation) which, in turn, will also kill the economy.
Famed gold investor Jim Sinclair has been saying for years on his website, JSMineset.com, that derivatives (including mortgage backed securities) were going to blow up someday and become worthless.  It looks like that day is now here.  Recently, Sinclair said, "Racketeering suits (RICO), now as civil class action suits in two states, have hit the nail on the head. The civil suit says the banks do not have proper title to the homes on which they are foreclosing. This by direct inference questions if securitized debt on mortgages have real collateral behind them. Simply stated a long time ago by Marie McDonnell and myself, THEY DO NOT. That means legacy assets are cooked, dead, and worthless, yet are now marked up in value to cost and above."   
Sinclair also says, "It is all over. Gold is going to and through $1650."  So who is buying all this gold?–The rich of course.  You see, they want to stay rich and not be stuck with funny money that the government printed (out of thin air) to bail out the banks, again.  A recent Reuters headline said, "Super-rich investors buy gold by ton."  The story went on to say, "The world's wealthiest people have responded to economic worries by buying gold by the bar — and sometimes by the ton — and by moving assets out of the financial system, bankers catering to the very rich said . . ."  (Click here for the complete Reuters story.)Little people (like you and me) should do what the rich do.  If you cannot buy gold, then buy silver.  It is a much better deal right now.  Also, it was announced last week that central banks in Europe stopped selling gold.  A recent CNBC story gave the reason, "The shift away from gold selling comes as European central banks reassess gold amid the financial crisis and Europe's sovereign debt crisis."  "Financial crisis"– this is a fear trade done for preservation of wealth and nothing else.  (Click here to read the complete CNBC story.)  Suspension of European central bank gold sales will take hundreds of tons of supply off the market and send  prices higher.
You say you still just don't understand why the rich are fearful?  I just received this comment yesterday from one of my readers  named Jon, who wrote, "This is the last straw for me.  I am no longer paying mortgage.  If others are getting off the hook, I might as well too.  There is nothing to lose by acting disobedient in this system anymore.  In fact, bad behavior is rewarded!  I saw this loophole last year but have decided now is the time to stress-test the system.  If everyone joins in the movement to get free homes, there will be too much work for the thugs to deal with.  Everyone's doing it!  Jump on the bandwagon and get our country back from these evil souls who stole it."  
Now amplify Jon's plan of action times millions of homeowners who feel the same way– cheated by the banksters.  I don't blame Jon for thinking this way, but if he and millions like him stop paying for their homes en masse, then the system will crash.  The government will feel forced to step in with funny money and try and stop the banks from failing.  These are the reasons why I say, "Record high gold is all about fear—not greed."