Russia Threatens West, Pfizer Bait & Switch Confirmed, Economic Slide Continues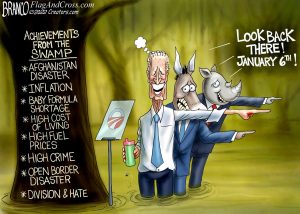 By Greg Hunter's USAWatchdog.com (WNW 533 6.10.22) (UPDATED)
The mainstream media (MSM) is largely not reporting or, at least, underreporting the threats that Russia is making against the West, mainly the US and UK.  Russia is making threats to strike because NATO it is supplying rockets to Ukraine that can hit Russia.  If that happens, then Russia says it would strike targets such as "decision-making centers."  Why is the MSM underreporting this huge turn of events?  Are they trying to hide the fact that this ridiculous Ukraine war is a very bad idea that might produce even more very negative consequences for America?  I guess if it gets bad enough, the propaganda press will say 'nobody saw this coming.'  Please know warnings are being made and ignored by the propaganda press, and the White House is not being questioned about its stupid and dangerous strategy on Ukraine.
The week Pfizer's CV19 vax called Comirnaty was "approved" by the FDA, USAWatchdog.com told you it was a fraud and a bait and switch from the very beginning.  Dr. Michael Yeadon told us "Pfizer never made Comirnaty for the U.S. market."  Now, the CDC is running for cover and saying Pfizer's experimental BioNTech COVID-19 vaccine changed its name to Comirnaty.  Spoiler Alert!  That does not make it approved!!  Pfizer, the FDA and CDC convinced millions of people that the experimental BioNTech COVID-19 vaccine was approved, safe and effective, when, in fact, it was and still is experimental.  Now, Pfizer says it will not make Comirnaty at all and will make a new mRNA type of CV19 vaccine.  GatewayPundit.com summed it all up with this quote from a top mRNA doctor: "Dr. Robert Malone – the inventor of mRNA technology – has said for months, if Pfizer doesn't give out its 'fully approved' (Comirnaty) version, they keep the immunity, and that's exactly what they've done."  The bottom line is this rip-off vax enticed millions of CV19 vax hesitant people to get stuck with something that was experimental and not proven to be safe and effective.  The CV19 vax data that keeps rolling in shows it's just the opposite.
The national average for gasoline is now more than twice the price it was when the Biden/Obama administration started in January 2021.  It's $5.00 per gallon, and America is hurting and struggling with inflation in everything they touch and consume.  It's not peaking anytime soon either.  All the big economic folks are saying a big recession is dead ahead.  Unemployment is tracking up, and housing is rolling over.  What's the answer for consumers?  Data shows people are maxing out their credit cards to buy fuel and food until the whole thing blows up, and it is going to blow up.
Join Greg Hunter of USAWatchdog.com as he talks about these stories and more in the Weekly News Wrap-Up for 6.10.22.
(Update on Dr. Tenpenny and her Truth Social account 6/10/22.  Dr. Tenpenny's Truth Social account was suspended, but according to Dr Tenpenny, it was reinstated a few days ago.  She said on Truth Social "Just another Mystery" and posted a winking emoji.) 
(To Donate to USAWatchdog.com Click Here)
After the Wrap-Up:    
World renowned lung doctor and Covid expert, Pierre Kory, will be the guest for the "Saturday Night Post."  Dr. Kory has new treatment protocols for the millions of people suffering from vax illness and injury.