What is America Thinking Coast to Coast?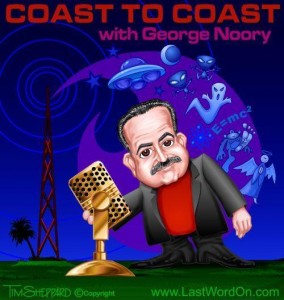 By Greg Hunter's USAWatchdog.com  
I was on the nation-wide radio show, Coast to Coast AM, for 3 hours early Monday morning.  Ian Punnett filled in for the regular host, George Noory.  Punnett is a pro, and he guided me through many subjects I have been writing about for the past several weeks on USAWatchdog.com.  I write about the economy, politics and the mainstream media the most, and we covered them all in my interview.  The comments and emails in the last 24 hours have been massive and daunting.  At this writing, I think I have answered more than a hundred emails and posted another 150 comments on several of the stories I have done.  I love Coast to Coast for many reasons, but one of my favorites is I get to check the pulse of America and find out what people are thinking across the country.  I did not get a single comment where someone thought things were getting better with the economy or politics—just the opposite.  People are frustrated, scared and downright angry at how things are being handled.  I have excerpted quotes from emails and the comment sections of the site to give you a feel for what people are thinking Coast to Coast.
(Phillip) Greg, great thorough article once again ! The Fed's obvious (unspoken) plan is to take a huge ole guthrie on the dollar (and then wipe their maloney with the U.S. taxpayer), thereby allowing our country's monstrous deficit to be inflated away ….this will end badly I'm afraid.
(Cowboy)Thank you for getting the truth out. As you and many others including myself know, there is no way out of this debt crisis. The damage was done over the last 10 plus years. It is now time to prepare for what is ahead. How and when our currency crashes is just a matter of time.
(Rex)1. Has EITHER PARTY done anything to secure our borders and enforce our immigration laws?  NO!  (Now, we have CHERTOFF's  nasty Strip-Search Machines because of a (Contrived incident) which I bet will replay itself at:  Mall, Grocery store, stadium, school, hospital, etc. and soon, these machines will be all over the place!..If I'm wrong, that's great. It's also spectacularly funny to see that NEITHER Chertoff or Napolitano gave or gives a rat's behind about SECURING our borders or enforcing our IMMIGRATION LAWS, but they want these STRIP-SEARCH Machines foisted on us.
(Rob)The Great "Unsinkable" Titanic has now hit the iceberg of its own creation because fraud and hoxery is no longer sustainable and can no longer be covered up.  Is it "fixable"? No it is not.  What is needed is nothing short of an entirely New Paradigm, not remodeling, but an entire make-over where basic human
(Lew)I believe that the past few years (at least) have created a Constitutional crisis that the American people will need to face and resolve, if they are still able.  I personally have my doubts, the Rugged Individualist is painted as an outcast, a loner, someone to mistrust.  People have gladly handed over freedom for "security"; this is the largest indicator to me as the end of American society.
(Mike)I think the worst part of this whole scenario is the helplessness that we all feel. We're just passengers along for the ride. And the car is heading for the proverbial cliff. I have bought precious metals and hold them in my own personal safe but, realistically, if the whole ball of yarn unravels, is that enough? I seriously doubt it!
(KC)On a very practical level, stock up on non-perishables; bottled water, juices, canned goods, toiletries, toilet power and paper towels, flour, sugar, oil. Prices are already rising on food. Get a freezer for meat and fish. By spring, all these things will have risen considerably. There are wholesale places to buy in bulk. If nothing happens, you're just well supplied; there's nothing lose.
(Al)All of these issues have the same problem, no accountability. No one goes to jail. They lie, they cheat, they steal and no one is held accountable for their actions.  The poor guy stealing a candy bar at the local food-mart goes to jail, but the dunderhead in a three piece suit who steals billions gets a pat in the back and a bonus.  Bring back accountability and all these problems will go away. JAIL EVERY ONE OF THEM! INSIST ON ACCOUNTABILITY FROM THE LOCAL LEVEL ON UP!
(Jan)My friend survived the fall of the USSR. . . .  Last week, I asked him what happened to people's money, their savings accounts in the bank.  The answer "the government took it all."  He told me they were watching the news one evening when it was announced the ruble was dead and there was a new currency.  People could exchange a limited amount of their old currency for the new currency.  If they had ten thousand dollars, they got one thousand dollars.  The stores were emptied out in no time.  When the stores were re-stocked they stood in line for hours hoping it wasn't all gone before they got in the door.  My friend sees what is happening here, everything he escaped from there.  He is well stock up, lives on a small farm and has lots of silver.
When it came to the gigantic problems in the foreclosure/mortgage-backed security fraud arena, there was much anger, frustration and confusion on what homeowners can do to protect themselves and fight back.  (I've done several stories in the last few weeks that explain the mortgage-fraud mess.  Feel free to scroll through the site to read more.)
(Robert)Hi Greg, heard you on Coast last night. As a mortgage payer, should I ask for a copy of prom note & if it cannot be 'located' or shown, should I continue payments or go to court, i.e., sue for fraud.
(Don)I can't help but think the powers-to-be are very concerned about a citizen level discovery and movement to follow this example.  Worth reviewing for anyone in the Cleveland area.  If the promissory note holder of record cannot be determined in foreclosure proceedings, then the promissory note holder of record cannot be determined in a court of law contesting the validity of the mortgage of record.  Everyone with a mortgage should proceed to invalidate their mortgage in a court of law, IMHO.
(Meylssa)"I am a homeowner from the heartland in good standing with a good amount of equity. Recently approached my lawyer to work with me to make the Bank of America show they can produce a clear deed/title to my home when I pay it off.  Recently, I wrote to Bank of America and asked them to show the note.  Insultingly they sent a computer generated form letter telling me my loan is with Freddie/Fannie.  My lawyer came up with a brilliant strategy that I plan to share exclusively at first with Greg Hunter and his audience as soon as the suit is filed." 
I hope you do that Meylssa.  I spent a few minutes on the phone last night with Mortgage Fraud and Forensic Analyst, Marie McDonnell, who is also a Certified Fraud Examiner.   I asked her how people can protect themselves when dealing with mortgage companies.  She told me, "Whether you are current or in default on your mortgage–rule number one is you must keep good records."  That means find and keep all loan origination documents, mortgage statements, tax bills, insurance bills and any correspondence with the mortgage lender.  This is a multi-trillion dollar problem and many Americans still do not realize the enormity of the issue.  Even if you are not in foreclosure or default, McDonnell says if you took out a mortgage in the last 10 years, the title to your home is probably impaired in some way.  There are no quick fixes or easy answers.  McDonnell says it will take years to get clarity through the court system on who really owns your home.  I will be doing more on this subject with Ms. McDonnell in the future.