WNW 182-Netanyahu & Coming War, Fed Confusion, Drought in West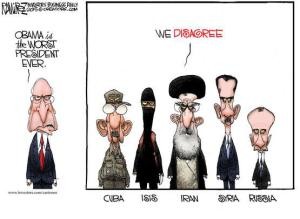 By Greg Hunter's USAWatchdog.com  3/20/15 
The big story this week is the election win of Benjamin Netanyahu in Israel, and the implications for the Middle East.  I predicted that the meddling Obama supporters were doing in Israel would backfire, and it did–big time.  Netanyahu won, so now what?  A Palestinian peace deal has moved to a back burner.  Some in the press have reported Netanyahu has cancelled the so-called two state solution to form a Palestinian state.  That is not really accurate.  Netanyahu said that "under prevailing conditions" the two state peace deal in not going to get done.  What are the "prevailing conditions"?  The peace negotiation broke off nearly a year ago.  There is also increased violence, and major disagreements between Israel, Hamas and the Palestinian Authority (PA) continue to get worse, not better.  Hamas and the PA are now aligned politically.  The bottom line is look for more unrest and even more violence both inside and outside the borders of Israel.  There is also talk of the Obama Administration going to the U.N. to try to push the two state deal.
Meanwhile, the Obama Administration is pushing to get a deal done with Iran to curtail its nuclear program that it has repeatedly said is for the peaceful production of energy.  Israel isn't buying it and says the Obama deal will allow Iran to get nuclear weapons.  The Obama Administration has not fully and publicly disclosed the deal.  Some think that, too, will be something the Obama Administration will take directly to the U.N. and bypass Congress.  It is not just Israel that is concerned, many in the U.S. and in the Arab world are also worried about a nuclear arms race heating up in the Middle East.  I read this week that Secretary of State John Kerry was quoted as saying, "The Iranians have lived up to their part of the interim agreement . . . made more than a year ago."  My question is how does he know that?  Are there inspectors in Iran?  Do they have access to every nuclear site both known and unknown?  Last month, Kerry admitted to Congress that there were secret Iranian nuke sites.  This is looking like the Obama Administration is going to cut a deal with Iran no matter what.  Look for the deadline at the end of this month to be pushed back—again.
Closer to home, have you heard about the so called "Realistic Military Training" that will be taking place from July 15th to September 15th?    It is happening from California to Texas and all the states in between.  The operation is called Jade Helm, and it is sort of a war game that includes real citizens.  I think it is a very suspicious time period given the fact that several of my guests have come on and said they thought there is going to be financial upheaval this fall.  Many have said it looks specifically like it will happen in the September-October time period.
Meanwhile, every major country has signed on to be a part of the Asia Infrastructure Investment Bank (AIIB) led by China.  I am talking the UK, most countries in Europe and the BRICS nations are all on board.  This is paving the way for China to have a competing reserve currency to the U.S. dollar.  This is a direct challenge to the U.S. and the World Bank.  I think countries are preparing for the de-dollarization of the world.  If the world is going to need less dollars, then they are going to be coming home, and that could produce some very high inflation along with much financial instability.
That brings us to the Federal Reserve announcement that it will be dropping the word "patient" in its forward guidance when it comes to interest rates.  This is the word my friend Gregory Mannarino of TradersChoice.net focused on last week and said if the Fed dropped that word, then the markets would sell off.  Maybe Fed Head Janet Yellen listens to this show because she also said, "Just because we removed the word patient from the statement doesn't mean we are going to be impatient."  Does the Fed know how weak and confused it looks?  Ms. Yellen wants it both ways and wants to appear tough when she know if she raises rates, the economy, which we all know is a fraud, will crash.  Mannarino is forecasting another round of money printing just like Laurence Kotlikoff, John Williams and many other guests who have been on USAWatchdog.  Mannarino is also forecasting "negative real interest rates" as the economy continues to spiral downward.  He, too, is thinking that this fall is the end of the road.  I am calling what is coming "reality colliding with fantasy."  It is going to be life changing, especially for the unprepared.
Finally, drought in the West.  Talk about an underreported story, a severe drought picture in USA Today says it all.  California is the hardest hit.  It is reported that there is only a year's worth of water left in many of the reservoirs.  Water levels are reaching historic lows and wells are running dry.
Join Greg Hunter as he looks at these stories and more in the Weekly News Wrap-Up.