WNW 183-War in Yemen, Crazy Middle East US Policy, Iran Nuke Deal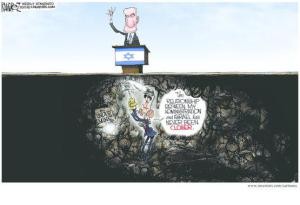 By Greg Hunter's USAWatchdog.com  3/27/15
This Wrap-Up will try to make sense of the nonsensical, crazy U.S. Middle East policy. We start in Yemen. Saudi Arabia and Egypt are getting ready for an invasion of Yemen. Saudi Arabia has already been bombing key positions of Iranian backed terrorists (also known as Houthi rebels). It was little more than six months ago that the President called Yemen a success in terms of fighting terror, but now the government has imploded, and al-Qaeda backed terrorists are fighting for control of the country with Iranian backed terrorists. Of course, Saudi Arabia and Egypt are enemies of the Iranians, and now it looks like the Saudis will also team up with al-Qaeda to drive out the Iranian terror group on its southern border in Yemen. We are talking total and all-out war, which includes tens of thousands of ground troops, tanks, jets, helicopters and also a blockade of Yemen. It is also a place where the Pentagon admitted to losing a half billion dollars of military equipment. We're talking things such as more than a million rounds of ammunition, 160 Humvees, helicopters, aircraft and boats. Some of it ended up in the hands of al-Qaeda, and some of it ended up in the hands of the Iranian backed terrorists.
Meanwhile, in Iraq, the U.S. is conducting air strikes against ISIS, cousins to al-Qaeda, for the Iranian led attack to retake Tikrit. So, the Saudis, a U.S. ally, are teaming up with al-Qaeda to fight against the Iranian backed terrorists in Yemen, while the U.S. helps out the Iranians in Iraq. What happened to Syria? I thought the U.S. Congress voted to back the so-called moderate rebels, which in part is al-Qaeda, to fight the Assad regime, which is backed by Iran. Are you following this so far? If there is a strategy in the Middle East, what is it, and why doesn't the mainstream media (MSM) ask the Obama Administration to explain it? If it is a policy of chaos and confusion, they are meeting their goals. What could possibly go wrong?
We move on the negotiations over curtailing the Iranian nuclear deal, and we find out that the French are pushing for a better deal than the U.S. There are reports that the U.S. has caved into Iranian demands and will not be driving a very hard deal. For one thing, all Iranian sites will not be up for verification and inspection. This includes military sites that are deep underground. What have I been telling you about the Iranians not curtailing their nuclear program? The Iranians have consistently said many times that it would not curtail its program, and it looks like they are being true to their word. Of course, the American public knows little of what's going on from the White House, but the President did make time to go on Iranian television to heap praise on Iran's supreme leader. Last week, Secretary of State John Kerry was making statements of progress on Iranian nuclear talks while the Supreme Leader Ayatollah Khamenei was getting a crowd of his citizens to chant "Death to America."
Meanwhile, the U.S. just released information about the Israelis' nuclear program in the form of a declassified 1987 report. I guess the Administration is justifying if the Israelis have a nuclear program, why not the Iranians? The Israelis have never said much about this program, but everybody knew it existed. So, it's not really a national security threat to Israel, but it sure looks like a childlike payback from the Obama Administration over winning an election and giving a speech to Congress. The Obama Administration also has charged Israel with spying on the Iran nuclear negotiations, which Israel denies. The President did not want to answer questions about it and said, "As a rule, I don't talk about intelligence matters in a room full of reporters." To that, I say why not? It was the Obama Administration that leaked the Israel spying story. It is reported that Israeli officials say this is nothing more than an attempt to show Democrats that Prime Minister Netanyahu has "done wrong." I think the Obama Administration is fearing a veto override, and it is sending a message to Democrats they should not to do it.
Join Greg Hunter as he talks about these stories and more in the Weekly News Wrap-Up.