WNW-184- Iran Nuke Deal or No Deal, Russia Threatens Nuke War, 0% GDP Growth, California Drought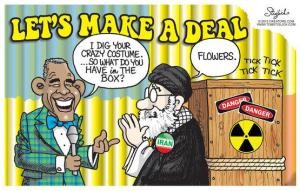 By Greg Hunter's USAWatchdog.com  (4.3.15)
Looks like the U.S. and the rest of the major countries negotiating with Iran have a framework for a deal to curtail Iran's nuclear program.  Let's not call it a real deal.  Why?  Because this is only a so-called "framework," and lots has to be agreed upon before it's a real deal.  There are two big problems:  they are inspections of known and unknown sites, and Iran doesn't have to dismantle any of its nuclear facilities.  According to the Obama Administration, there is a so-called "fact sheet" laying out some of the main points describing what the Iranians will give up.  Javad Zarif, the Iranian Foreign Minister negotiating the deal, refuted what Obama announced and called what he said "spin."  Zarif tweeted out: "The solutions are good for all, as they stand. . . . There is no need to spin using 'fact sheets' so early on."  The President also said the sanctions would be lifted "gradually" as the Iranians complied with the agreement.  The Iranian Foreign Minister disputed that by giving another tweet that said, "US will cease the application of ALL nuclear-related secondary economic and financial sanctions.' Is this gradual?"  The Foreign Minister also said that the deal would not "scale back Iran's program," which is what Iran has been saying all along.  The Iranians have been extremely consistent.  The Iranians have basically accused the White House of lying about the deal.  So, deal or no deal is the question.  This is all supposed to be finalized by June 30th, and I can't see how that is going to happen.
Reaction to this so-called deal from Israel and newly elected Prime Minister Benjamin Netanyahu is very negative.  Netanyahu said, "A deal based on this framework would threaten the survival of Israel."  He also said, "It would increase the risks of nuclear proliferation and the risks of a horrific war."  Also, a top Iranian General, just this week, said, "Israel's destruction is non-negotiable."  Please keep in mind, he said this while negotiations were going on to curtail Iran's nuclear program.  My question is why did he think he could say this in the middle of sensitive negotiations?  This kind of talk clearly shows a wider war in the Middle East is on the way. 
It's not just the Israelis who are nervous, the Arab or Sunni Muslims don't like it either.  They say it reflects "U.S. weakness," and lifting the sanctions will allow Iran more money to spread its influence, just like they are doing in Yemen.  It looks like this deal will not calm things down but lead to more violence between Sunnis and Shia Muslims.  Is this a wider replay of what happened between Iraq and Iran in the 1980's?  Making this deal is like cutting a deal to get an arsonist to stop setting fires in the middle of a burning building.  There are many other issues to be addressed and have not been.
Russian leader Vladimir Putin is threatening nuclear war on NATO over the Baltic States.  He wants NATO to back away from its borders, and this is yet another area where war can break out.  Putin is saying this because of recent increased arms shipments to Ukraine and to other Eastern European countries.  Putin has also said that nuclear war was an option if there was an attempt to return Crimea to Ukraine.  There hasn't been much reporting on this story, but it's there, and that, too, is another very hot spot in the world.
The economy grew at 0% in the first quarter.  That is the official number from the Atlanta Fed that came out as a downgrade from the supposed estimated 2.3% growth in the first quarter.  Imagine what the number would be if it factored in true inflation?  That is in line with the latest figures for GDP from Goldman Sachs.  It says this is the fourth month in a row the global economy has contracted.  As John Williams and many other guests have been predicting, the economy would turn down this year and force more QE or money printing.  Dr. Paul Craig Roberts also predicted this and contends there is nothing that will turn the economy around.
The drought in California is bad and getting worse.  Governor Jerry Brown has put in statewide water restrictions for the first time in the state's history.  My question is why did it take him so long to act?  I have been highlighting this story since last year.  The entire state is in some sort of drought.  NASA says the state has a year's worth of water left.  Most think of Hollywood when they think of California, but it grows an enormous amount of food.  It is the leading producer of many fruits, nuts and vegetables.  It generates more than $37 billion every year growing food.  If this continues, it could wipe out much of the tax base in California, not to mention cut the global food supply.
Join Greg Hunter as he talks about these stories and more in the Weekly News Wrap-Up.
(Note: I said meant to say the agribusiness in California is $37 billion not $37 million. It was a slip of the tongue.)