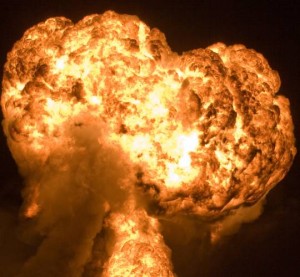 By Greg Hunter's USAWatchdog.com 
The "you know what" hit the fan today with sharp selloffs of just about everything.  The Dow was off nearly 400 points–ouch!  So much for the so-called "recovery."  Gold made a significant comeback after being down nearly $80 at one point, but it still took one on the chin.  Yesterday, Fed Chief Ben Bernanke admitted that the world economy was in the tank and headed lower when he said there were ". . . significant downside risks to the economic outlook, including strains in global financial markets."  You might want to call this Bernanke's self-fulfilling prophecy.
A quiet global meltdown was already underway before Bernanke's speech.  Now the volume has been turned up so everybody on the planet knows what's going on.  Monday, I said, "The problem is so large that the European Central Bank along with the Bank of Japan, Bank of England, Bank of Switzerland and the U.S. Federal Reserve will all team up and bail out Europe—again.  The ECB is setting up a $600 billion European bank bailout fund, and according to Treasury Secretary Tim Geithner, $600 billion is not enough for the European share of the bailout!"  (Click here to read the complete post.) 
Now, we find out that the IMF is going to activate $571 billion in credit lines to help with the EU meltdown that is threatening to suck the entire planet into a financial black hole.  Let's see, there's $600 billion from the EU, $571 billion from the IMF and $400 billion in bond buying (on the long end of the curve) from the Federal Reserve, and world markets are still melting down?   Nearly $1.6 trillion doesn't seem to be enough to stop the cliff dive the world economy is about to take?  Not a chance.
Don't think the powers are going to give up that easily.  There will be much more to this new worldwide bailout story.  Keep in mind, the Fed handed out $16 trillion in the aftermath of the last financial crisis in 2008.  This new crisis is, at the very least, just as bad and I think worse than the last one.   The sell-off in precious metals will be short lived.   I smell ink and lots of it coming our way.