CV19 Vax Wearing Off, OSHA Calling Off Mandates, Inflation Keeps On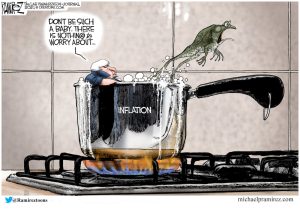 By Greg Hunter's USAWatchdog.com (WNW 504 11.19.21)
Dr. Tony Fauci is warning the CV19 vax is wearing off and says a third booster shot is "absolutely essential."  What happened to "fully vaccinated" after shots from Pfizer, Moderna and J&J?  I guess "fully vaccinated" is a moving target or simply a lie and confirmation the shots do not work to stop Covid.  Bill Gates said similar things recently too.  I told you the narrative was unwinding, and it is and they know it.  This is the backdrop, and they still want you to be forced to get vaxed with an experimental drug.  mRNA pioneer Dr. Robert Malone calls this the biggest human drug trial in history.  What could go wrong?  Look at the data, and plenty has gone wrong with deadly and debilitating events in the millions from the CV19 inoculations.  "Stop the Shots."  Is President Trump listening?
There is good news on the vax mandate front.  The Fifth Circuit Federal Court has called the Biden vax mandate for CV19 shots unconstitutional, and OSHA has suspended implementation of the mandates.  The Fifth Circuit Court ripped to pieces the OHSA "Emergency Temporary Standard" (ETS) and basically said it was an overreach in a very big way.  Does this case make it to the Supreme Court?
There is some consensus that the Federal Reserve is making a huge policy mistake by keeping the easy money flowing and interest rates suppressed.  It all comes down to one very nasty word in the financial circles — inflation.  It is not "transitory" as the Fed says, and many think it is not just here to stay, but it's getting worse and could destroy the real estate market, the bond market and the stock market all at the same time.  Former Treasury Secretary Larry Summers is sounding the alarm, and he is a big-time Democrat.  If he's warning, you know it's bad.
Join Greg Hunter of USAWatchdog.com as he talks about these stories and much more in the Weekly News Wrap-Up. (11/19/21)
(To Donate to USAWatchdog.com Click Here)
After the Interview: 
Renowned radio personality, filmmaker and book author Steve Quayle will be the guest for the Saturday Night Post.  He will talk about his new movie called "Mega-Drought: The Annihilation of the Human Race Accelerates."  The movie title says it all, and Quayle will explain in detail.