Declassify FISA Docs Coming, Mueller Desperate, Economy Tanking?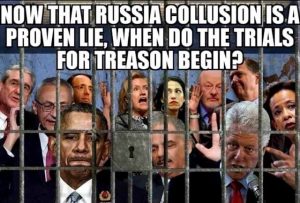 By Greg Hunter's USAWatchdog.com (WNW 362 11.30.18) 
Trump tweeted out a cartoon with some of the people behind bars that failed in taking him out of office in a soft coup. The cartoon asked "When do the trials for treason begin?" Could a release of the FISA documents laced with outright fraud used to spy on President Trump and prove a phony witch hunt be far away? People will go to jail over this.
Meanwhile, Special Prosecutor Robert Mueller and his team of Democrats seem to be panicked to tie President Trump to the failed Russian collusion case of the 2016 election. Some being prosecuted and questioned claim Mueller's team are asking them to lie to get a reduced sentence and to finger President Trump. It ain't working.
The Fed is looking like it's going to raise interest rates one more time and stop. Wall Street loves this, but is the Fed signaling the economy is starting to get into trouble?
Join Greg Hunter as he gives his take on the top stories of the past week in the Weekly News Wrap-Up.
(To Donate to USAWatchdog.com Click Here)
After the Interview:
Dr. William Black and expert in white collar crime and Professor of  Economics  and Law at the University of Missouri Kansas City (UMKC) will be the guest for the Early Sunday Release.  He will be talking about the criminal enterprise also know as Deutsche Bank, and why its  fraud impacts to the global financial system.