Dem Election Plan: Lie, Cheat, Steal, Intimidate & Silence while Economy Implodes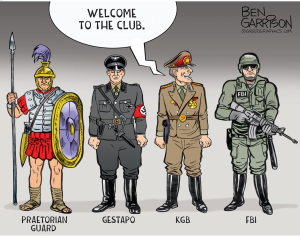 By Greg Hunter's USAWatchdog.com (WNW 547 9.16.22)
It's clear to me that the Deep State Democrat Party has zero to offer voters.  Killing babies, taking your guns, offering unlimited war funding for Ukraine and driving you into poverty is not a vote-getting platform, but that is their platform.  This is why the Dem election plan appears to be:  lie, cheat, steal, intimidate (with the FBI and DOJ) and silence any opposition or critic.  Can it work?  No!  But the desperate Dems are trying it anyway because it's all they've got.  Whether it's raiding President Trump's home or taking pillow man Mike Lindell's phone while serving a search warrant at a fast food joint, that's the plan in plain sight."
This weird political theater is happening all because they know the real Biden approval numbers that the public does not get to see.  The AP just came out with a new poll that says Biden's numbers are on the rise.  I say this is a continuing Biden-psyop that is total bull crap.  They are trying to give Biden some coattails for the upcoming midterm election, and I think the lying legacy media (LLM) are lying to do it.  It ain't going to work.  Senate Majority leader Chuck Schumer is already throwing in the towel on the House and says Nancy is not going to retain the majority.  Maybe this is why Pelosi wants an ambassador job from the Biden handlers.  The real approval number is 12% for sleepy Joe.  Again, the public never sees this number, but everybody in the know knows it.
The stock market tanked 1,500 points this week alone, inflation holding at 8.3% (the real number is about 18% according to Shadowstats.com), and the Fed is determined to fight inflation with rate hikes.  The hike next week will be at least .75%, but people are worried about a full 1% hike to kill the inflation monster, which will kill the economy.  Add the financial implosion taking place in the EU as the war with Russia continues, and this brings to mind the phrase "Run Forrest Run."  You better get ready because there is no way out this time.  The "Everything Implosion" is coming.
Join Greg Hunter of USAWatchdog.com as he talks about these stories and more in the Weekly News Wrap-Up for 9.16.22
(To Donate to USAWatchdog.com Click Here)
After the Wrap-Up: 
Gerald Celente, publisher of The Trends Journal, will be the guest for the Saturday Night Post.  Celente is one of the top trends forecasters in the world and will update us on everything from the economy to politics.