Election Panic Coming in 2022 – Martin Armstrong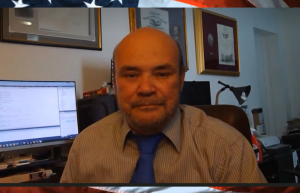 By Greg Hunter's USAWatchdog.com (Saturday Night Post)
According to a recent poll, 51% of Americans think Joe Biden cheated to get into the White House.  The breakdown is 74% Republicans and an astounding 30% Democrats think cheating played at least a part of the 2020 Election outcome.  In Arizona, the 2020 Election ballots are finally being audited as court battles to stop it continue.  Legendary financial and geopolitical cycle analyst Martin Armstrong is predicting an election "panic in 2022."  Armstrong explains, "It means extremely high volatility.  Despite whatever they want to say, there is a large proportion of the population that do not believe the election.  Polls are saying it's at 51%, but it's probably close to 60% or 70%.  You are also seeing that 60% of Americans want a third party, and you are talking about Democrats and Republicans. . . . I think because we have such a high number of people who do not trust the election results, I don't think they are going to be able to get away with rigging the elections again.  It's going to turn into violence.  There is no question about that."
Armstrong also sees Biden Administration tax plans on things like capital gains causing problems in the not-too-distant future.  Armstrong says, "If they eliminate capital gains, I don't care if you are Republican or Democrat, you are going to have to sell.  Your accountant is going to say if you don't sell, you going to pay twice or three times as much in taxes next year.  So, they can create a serious, serious collapse in the world economy.  This is in addition to all this Covid nonsense that they have created."
Armstrong has been saying for months that deflation would be the overarching theme in the economy.  Is that going to continue or has there been a change?  Armstrong says, "Deflation is now over.  People have to understand.  It has nothing to do with the supply of money. . . . If you don't see a bright rosy future, what do you do?  You save your money. . . . One of the number one selling objects in Europe is a safe.  People are storing cash.  Biden was the straw that broke the camel's back.  People are now seeing that things are going to cost more in the future than they do today.  They have also created shortages because of these lockdowns.  The inflation is just beginning to start now.  It's based on shortages, and it will continue going into about 2024."
The bottom line on the cause of inflation, according to Armstrong, is "a loss of confidence in government."
Armstrong also predicts, "We are looking at the prospect of a serious war between 2025 and 2027.  All this is completely because of this great reset nonsense.  They have been using the Corona Virus as an excuse to try and shut down the economy.  If you look at rents in New York City, they are in a freefall.  Real estate is going crazy outside of the urban centers.  In Florida, what was a $500,000 house last year is now more than $1 million."
On Trump, Armstrong says, "I don't see him returning to office before 2024." But, if massive ballot fraud is proven with the Arizona audit going on right now, Armstrong predicts, "The state legislature can recall a Senator" who won by election rigging.
Join Greg Hunter of USAWatchdog.com as he goes One-on-One in this in-depth interview (60 mins. in length) with Martin Armstrong of ArmstrongEconomics.com.  (What is written above is a very small sample of the actual interview.)
(To Donate to USAWatchdog.com Click Here) 
After the Interview:
Martin Armstrong also told me there are a number of events that could cause the stock market to sell-off quickly and plunge deeply.  So, stay on guard, and stay hedged and protected for unforeseen developments.
There is some free information, analysis and articles on ArmstrongEconomics.com.
To get a copy of Armstrong's latest book "The Cycle of War and the Coronavirus," click here.
There is also a PDF version of "The Cycle of War and the Coronavirus" you can get by clicking here.
For other books and products click here.
This segment is sponsored by Discount Gold and Silver Trading. Ask for Melody Cedarstrom, the owner, at 1-800-375-4188.