Global Economy on Unquestionable Decline Leading to War-Gerald Celente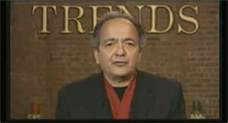 By Greg Hunter's USAWatchdog.com
Top trends researcher Gerald Celente is forecasting a slowing global economy in 2015, and oil is a leading indicator. Celente explains, "It's all in oil.  We've been talking about oil prices since they peaked in June of this year.  Now, you are seeing a 30% decline in Brent crude and West Texas (crude oil).  This is big and it's not a manipulated market.  This is real.  Yes, supply is up, but demand is down, and demand is down big time.  You don't have to look at that as an assumption, you can look at that as a fact.  Here's the fact.  The fact is China is one of the biggest consumers of energy and commodities in the world.  You are seeing investment in China coming down to 2000 levels.  You are seeing production falling back to great recession levels in 2008 and 2009. . . . This is a global slowdown.  It's in front of everybody's eyes, and oil is telling the story."
So, what's in store for 2015? Let's start with the global economy.   Celente says, "The economy is on a decline and it's unquestionable.   They are boosting the equity markets with record low interest rates.  It's a Ponzi scheme, and at some point, it has to explode."   Celente goes on to preview a taste of the 2015 Trends Journal.  Celente says, "One of the trends for 2015 is 'bankism,' not capitalism.  Capitalism is dead. This isn't capitalism.  Four words killed it, and they are 'too big to fail.'  Quantitative easing hasn't stopped.  They keep doing it, they just change the game."
So, which do we get first: a global economic crash or a global world war?  Celente says, "I would say first would come the economic calamity, but you don't know what will cause it.  For example, when 9/11 happened, they closed down Wall Street.  If there is a terrorist strike, either false flag or real, they will blame the economic conditions on these terrorists. . . . They will use it as an excuse.  So, you don't know whether it's heads or tails, but the coin will be flipped."
On the Middle East U.S. policy, Celente says, "It's madness. Look what they did with Libya.  We had to get rid of that Gadhafi.  Remember that one?  Great job, guys.  Terrific.  You turned the whole place into chaos, and you created the conditions for more destabilization around the area.   People like ISIS and these other people got the guns now and the weapons. . . . There's one failure after another."
What will the economy look like to the man on the street when the economy finally takes a fall? Celente predicts, "It's going to be inflation, but it's going to be currency devaluation rather than commodity inflation, for example:  oil.  We see oil prices coming down.  As the currency becomes devalued, it will cost you more to buy that commodity because they just continue to print more money and put it into the global system.  It's not only the United States, look what's going on in China.  There are estimates that there are 70 million luxury apartments they can't sell in China.  You read the data, and you see the government is boosting the economy."
On gold, Celente says, "When gold was around $1,200 per ounce, I said it had a downside risk of between $100 and $150 an ounce. We sent that out in the Trends Monthly.  I am in gold for the long haul.  Why would I want to be in Bitcoin, bucks or anything else when I see what's going on. . . .  To me, it's a rigged game, and the game only stays rigged for so long.  I don't buy gold to speculate. . . . I buy for possession.  Gold could go down more, but I invest in gold for my golden years.  Why would I invest in anything when I know they are keeping interest rates low worldwide to juice their markets?
Join Greg Hunter as he goes One-on-One with Gerald Celente, Publisher of the Trends Journal.
(There is much, much more in the video interview.)

After the Interview: 
Gerald Celente will release a complete list of top trends for 2015 next month. If you would like to subscribe to the Trends Journal, please click here.