Hillary in Deep Trouble, Iran Nuke Side Deal, Economic Warnings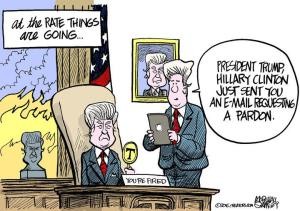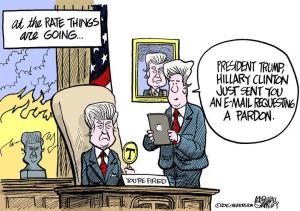 By Greg Hunter's USAWatchdog.com
(WNW 204 8.21.15) 
Hillary Clinton's email troubles keep getting worse. It is reported that national security laws were broken by Clinton and at least two of her staff. More that 300 of her emails have now been deemed classified and allegedly mishandled.   Clinton turned over her server to the FBI and says she doesn't know who wiped it clean. It is also reported that two of Clinton's top aides have disregarded a federal judge's order to make sworn statements that all government documents in their possession have been turned over. Every day, this email scandal is getting worse. As I said months ago, Hillary Clinton will not be President, and it will not be the Republicans that pull the plug on Hill's Presidential run, it will be the Democrats. Democrats have to be worried because this is looking like it is turning into a full blown crime and cover-up. At some point, the Dems will replace her, and they are not going to wait until a few months before the election. I think Hillary will be out before the first debate.
We know what was in part of the so-called side deal in the deal to curtail Iran's nuclear program. It is reported that Iran will be responsible for inspecting its own military nuclear facilities. The Obama Administration has said this deal is not going to be about trust, but verification. How in the world can the verification be left up to Iran? Remember I told you that Secretary of State John Kerry said he did not "have access" to the side deal? I said he is either a buffoon or a liar or both? Now, we know it's both. How can a key point in this deal, namely verification, be a "side deal"? Isn't verification the key point in this deal? Of course it is, and John Kerry sat in front of Congress and said he doesn't have access to the deal he brokered. Outrageous and imbecilic. Kerry should be embarrassed, and he should resign. This is why it is going to be very easy for top Democrats like Senator Robert Menendez to vote no. Senator Menendez just came out this week and gave this deal a big thumbs down. It is looking more and more like Congress will be able to override President Obama's upcoming veto on nixing the Iran deal.
Federal Reserve VP Stephen Williamson says that QE (money printing) did not help the real economy but did help the stock market. The QE did expand the Feds balance sheet from under $1 trillion, when all this started more than 6 years ago, to more than $4.5 trillion today. There have been all sorts of warnings coming out about how bad the economy is including from the Fed itself.   The warnings are also coming from past Fed Chiefs like Alan Greenspan.  Greenspan is warning about a bond market bubble, and you know what happens to bubbles. They pop. Greenspan says interest rates could shoot higher and said the bond market was in an "extraordinary unstable position." How many times have I said there is not recovery for Main Street? They have crammed the "recovery" story down our throats, and now even the MSM and the Fed know that is one big lie. There is no recovery. This fall is going to be turbulent. My friend Gregory Mannarino of TradersChoice.net says the Fed will not raise rates in September. He says the market may bounce, but as he predicted in May, the highs are in and the overarching trend is down.
California and the West continue to be starved for rain. They say the weather pattern will change with the coming El Nino, but who knows. What I do know is California is ground zero in the drought picture. So far, nearly 21,000 jobs have been lost mostly in agriculture, and nearly $3 billion has been lost to the drought. I do not know what Governor Jerry Brown is planning on doing, but betting on hope and El Nino looks like a very long shot.  In March, NASA estimated that California had only one year's worth of water left. The drought map looks like it is getting worse and not better.
Join Greg Hunter as he talks about these stories and more in the Weekly News Wrap-Up.