Housing Sales and Inflation Surge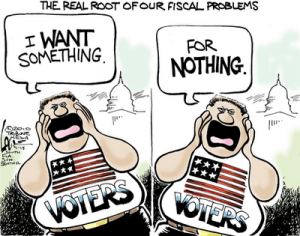 By Greg Hunter's USAWatchdog.com 
The big news in the economy last week was new home sales jumped 27% in March.  It was the best monthly increase percentage wise since John F. Kennedy was in office.  What the mainstream media did not tell you was new housing starts jumped up from a very low level– like the lowest level in history!  This chart from shadowstats.com illustrates the point: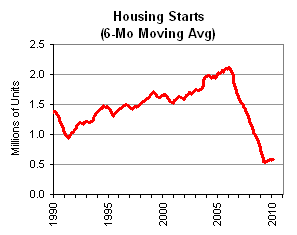 This is one of the many reasons why shadowstats.com founder, John Williams, says the economy is "bottom bouncing."  That is exactly what the chart shows.  In early 2006, housing starts were more than 2 million–now they are just over a half million.  Housing starts are down around 75% from the peak.  Does this look like a big turnaround to you?  Please do not get fooled into thinking we are on the brink of a real recovery.  Williams says, "The U.S. economy remains in an economic depression, which is about to intensify anew. . ."  
On the inflation front, the Producer Price Index was also out last week.  The increase was dramatic.  According to the latest shadowstats.com report, "Year-to-year, March's annual PPI inflation rose to 6.0%, up from the 4.4% annual inflation reported for February."  I talked to Williams, and he told me this jump in PPI was, "close to 1970's price increases."  The 70's gave America some of the biggest inflation of the last century.
All the bailouts and money printing that has been going on the last couple of years will be inflationary.  Already, "real inflation" is running at 9.5% according to shadowstats.com.   We are going to see a repeat of the 70's, but this time around, inflation in the U.S. will be on steroids.  Eventually, we will see hyperinflation.  So, a good place to store some of your wealth will be gold and silver.  Williams says, "The prices of precious metals, particularly gold and silver, also tend to lead broad consumer inflation, reflecting inflationary expectations in addition to acting as safe-havens against political and financial market uncertainties."   
If you are going to be a buyer in this market, physical gold or silver coins should be your core investment. You can expect big price volatility, but long term, both of these metals will go up substantially.  Which is better to invest in?  Famed investor Jim Sinclair likes gold.  After all, central banks vault gold for themselves.  But Mike Maloney of goldsilver.com likes silver better.  Maloney is forecasting silver prices will jump much higher in the coming years (on a percentage basis) than the yellow metal.  In a recent Bloomberg interview, Maloney said, "For the first time in human history, silver is more rare than gold."  You can waqtch the complete Bloomberg interview with Mr. Maloney below:
Please do not get fooled into thinking we are on the brink of a real recovery. Williams says, "The U.S. economy remains in an economic depression, which is about to intensify anew. . ."