Israel Attacks Hamas, Inflation Everywhere, Vaccine Push, US Drought Increasing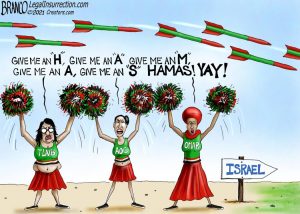 By Greg Hunter's USAWatchdog.com (WNW 480 5.14.21)
Inflation is everywhere, but the Federal Reserve is not worried about it.  Fed Head Jay Powell keeps telling us "inflation is transitory," meaning it will be short lived.  The investment community is not so sure about that.  As a matter of fact, many are worried and downright skeptical that inflation will be transitory but entrenched and sticking around for a long time.  And why wouldn't they be?  With gas shortages that pop up out of nowhere and expensive commodity prices spiking everywhere, there is good reason to be alarmed.
More cheating and more cover-up going on in Maricopa County as the audit of the 2020 Election continues. This week, we find out all the election data was deleted by officials from the voting machines.  This data is required by law to be kept.  Is this a criminal cover-up of vote rigging and vote changing that is being orchestrated by and election officials in charge of the election?  It sure looks that way.  Why is the Democrat Sherriff in Maricopa County not enforcing the subpoenas for logs and routers used in the election?
As if America does not have enough problems, what is being called a "Mega-drought" looks like it is going to become even more entrenched in the western U.S.  Experts say it is going to get worse as we go into the dry season out west, which starts in May.  Is this simply climate change?  That's what the woke mainstream media (MSM) wants you to think.  Dane Wigington, founder of GeoEngineeringWatch.org, says look first at geoengineering as the cause for much of the "Mega-drought" problem, but you won't ever hear that from the MSM.
The new ground and air offensive against Hamas by the Israeli Army and Air Force will also be covered.
Join Greg Hunter of USAWatchdog.com as he talks about these stories and more in the Weekly News Wrap-Up for 5.14.21.
(To Donate to USAWatchdog.com Click Here)
After the Wrap-Up:
Financial writer and analyst Craig Hemke of TFMetalsReport.com will be the guest for the Saturday Night Post.  Hemke says inflation is here, and it's not just passing through.  Its effects on the gold and silver prices will be big this year—especially silver.  There are more reasons than just inflation for that as Hemke will explain.