Mueller Sour Grapes Report, Border Collapsing, Economic Confusion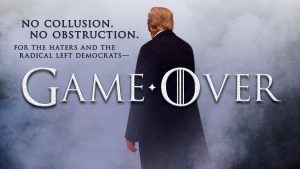 By Greg Hunter's USAWatchdog.com (WNW 380 4.19.19)
The redacted report from Special Counsel Robert Mueller was released Thursday, and you might as well call it the "Sour Grapes We Didn't Get Trump" report. There was no collusion and no obstruction but a lot of dirt throwing and whining by the partisan prosecutors who wrote the report. Trump is attacked in this report because he had the audacity to defend himself from false charges. Now, it's team Trump's turn to prosecute the perpetrators of this seditious treasonous fraud. People are going to jail over the real collusion to destroy a duly elected President.
According to former DEA Chief Karen Tandy, the border is collapsing under the weight of mass illegal immigration. The Border Patrol is simply releasing many illegals into America as they have no place to hold them.
The economic signals are all over the map. Unemployment is near record lows and, yet, retail stores are closing at a record pace in 2019. The stock market is nearing record highs again, but consumers have a record amount of consumer debt at $4 trillion. Judging the economy as good or bad depends on your vantage point.
Join Greg Hunter from USAWatchdog.com as he gives his take on the week's top stories in the Weekly News Wrap-Up.
(To Donate to USAWatchdog.com Click Here)
After the Interview: 
Chris Powell of GATA will be the guest for the Early Sunday Release and will talk about all the manipulation going on in the precious metals markets.