Russia May Nuke, Dems Will Cheat, Economy Already Tanking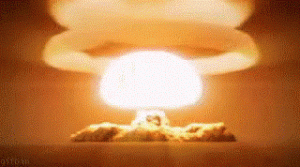 By Greg Hunter's USAWatchdog.com (WNW 548 9.23.22)
Putin is making some serious moves to put Russia on a war footing in what is being called a "partial mobilization of national forces."  Some reports say they are calling up 1 million people for a possible future war effort.  Maybe this is why many military aged Russians are trying to escape the country.  Meanwhile, a top Russian Security Council member is hinting that nuclear warfare is an option to defend recently annexed parts of Ukraine.  There are zero peace talks, and the only thing you are seeing is more money for war from the west.  It is now only a matter of when, not if, there is a nuclear exchange between Russia and NATO.   Lord, please help us.
A Bill passed in the House of Representatives that will make it easier for Dems to win another presidential race by limiting grounds for electors to object.  The Bill also opens up the possibility of voting after Election Day.  Of course, post-Election Day voting can only happen if there is some sort of "catastrophe."  So, I guess we can expect a "catastrophe" every presidential election from now on.  The Dems continue to look for other ways to cheat and intimidate voters who don't vote for them.  There are some bright spots for voter integrity that are continuing.  There are also more and more top Democrats telling Democrat voters to vote for a Republican.  One example is Dems are rallying around Republican candidate for Governor Lee Zeldin from New York.
You don't have to be a rocket scientist to see the economy tanking before our eyes.  Housing data is trending down, and inflation is trending up.  According to Nerd Wallet, it now costs the average family an extra $11,500 to live this year over last year.  Meanwhile, the Fed just raised rates again, and it is on track to raise them again and again and again to fight inflation, or is the Fed crashing the economy?  Maybe it's both.  I think the Fed is really just supporting the U.S. dollar and the hell with everything else.  If the dollar crashes and loses reserve currency status, it's game over.  Buckle up.
Join Greg Hunter of USAWatchdog.com as he talks about these stories and more in the Weekly News Wrap-Up for 9.23.22.
(To Donate to USAWatchdog.com Click Here)
After the Wrap-Up:
Renowned geopolitical and economic cycle expert Martin Armstrong will be the guest for the Saturday Night Post.  It will be an important update on war and the economy.