Tensions Explode With Russia, Trump Fires Problems, Economic Update
On March 16, 2018
In Media
163 Comments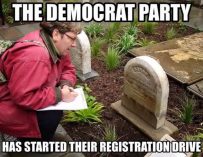 By Greg Hunter's USAWatchdog.com (WNW 326 3.16.18)
The U.S., UK, France and Germany are all blaming Russia for a nerve agent attack on a former Russian spy in Britain. Russia is denying the attack, but that is not stopping Prime Minister Theresa May from expelling Russian diplomats.  Russia is reportedly responding in kind.  President Trump is adding sanctions against Russia, and the whole thing may be a prelude to a global conflict or at least a trade war.
President Trump is using that old familiar phrase he made famous on the Apprentice TV show. He told his National Security Advisor and his Secretary of State "You're Fired" this week and already has replacements lined up.
We have been told the economy is doing great, but the Atlanta Federal Reserve is saying otherwise. It is saying the first quarter of 2018 will come in with a sluggish 1.9% GDP.  That's way down from the projected 5% GDP number being talked about a few weeks ago.  John Williams of ShadowStats.com is also warning of a slowing U.S. economy.  He says watch what the Fed will do and watch the dollar.
Join Greg Hunter of USAWatchdog.com as he talks about these stories and more in the Weekly News Wrap-Up.
(To Donate to USAWatchdog.com Click Here)
After the Interview: 
Mark Taylor, author of the popular book "The Trump Prophecies," will be the guest for the "Early Sunday Release."