The Dollar Rally Will Not Last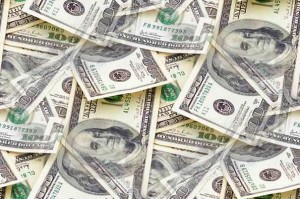 By Greg Hunter's USAWatchdog.com 
Almost everything but the U.S. dollar took a hit yesterday.  Oil sold off nearly 4 bucks a barrel, the Dow was off nearly 270 points, bonds tumbled and gold plunged nearly $50 per ounce.  The dollar was bought because the euro sold off due to debt trouble in Southern Europe. There are fears of a debt default in Portugal, Italy, Spain and Greece.  The "safe haven" of the U.S. dollar is the beneficiary of those consternations.
The odd thing is, the job market in the U.S is showing signs of more trouble.  That was an additional weight on the stock market because out of work people do not spend money.  Word is, there is going to be a very large revision to the jobs data to the downside.  I have been saying for months there were bigger job losses than reported by the government.  For example, a month ago, I did a post called "Unemployment 5 Times Worse than BLS Reports."  Now, Bureau of Labor Statistics is making a huge revision to the unemployment number.  This should not be a surprise to regular readers of USAWatchdog.
The BLS says 1, 360,000 more jobs were lost in the last year (or revision period) than was originally reported.  That means the recession job losses were 19% worse that what the government has been reporting.   8.4 million jobs have now been officially lost in this recession!   Instead of concentrating on this giant revision, the mainstream media reported only the monthly unemployment number which unexpectedly shrank to 9.7%  from 10%.  The reason it shrank, according to economist John Williams of  shadowstats.com, is an accounting gimmick called "seasonal-adjustment."  The "seasonal-adjustment" was made because there were not as many post-holiday layoffs.  Williams  says, "I think companies didn't layoff as many as usual because they did not hire as many to start with."  Williams is predicting "serious jobs and unemployment deterioration in the months ahead."   By the way, if there was no "seasonal-adjustment," the official government unemployment number would have jumped to 10.6%.  If unemployment was computed the way BLS did it prior to 1994, it would be 21.2%  according to shadowstats.com.
Spiraling unemployment is very dollar negative.  For one thing, it is revealing a much weaker economy than what is being reported in the mainstream media.  It will also light a fire under Congress to spend more money to "fix" the problem.  There is a $150 billion "jobs" bill going through the Senate, and it will probably pass soon.  That will certainly not be the end of the money spending.  Almost every state in the union is facing some sort of budget shortfall.  California alone is $20 billion in the hole right now!  A bailout of every state in need will cost between $100 billion and $200 billion this year alone. What do you think the chances of a bailout for financially troubled states are in an election year?  All this spending adds to an already record deficit, with no end in sight.
Wild spending, record deficits and bailouts are just a few of the reasons not to be bullish on the buck.  There was an excellent article in Market Watch earlier this week that named 20 triggers that could set off the debt bomb that will blow away your financial future.  Please read this story called "20 Reasons Global Debt Time Bomb Explodes Soon."
All this news of debt, default and deficits are dollar negative and gold positive.  Financial expert Dan Norcini gives some of the very best commentary and market analysis in the business.  He summed up yesterday's market sell off this way, "Nothing really has changed except that gold is getting sold off from a higher level which means it will also find support at a higher level as it continues its steady climb higher." (Click here for Norcini's complete commentary) 
Meanwhile, I want to bring your attention to a clip that first aired on CNBC Asia in November.  The CEO of  Nine Points Capital, Damon Vickers, says the dollar will be "utterly destroyed,"  and big changes are coming to America and the world because of the dollar's demise.  Vickers heads up a very successful hedge fund with serious money to invest, so you should listen closely.