Trump Wins Debate Big, Voters Turning Red, Economy Needs Help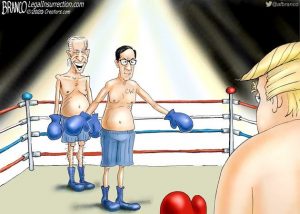 By Greg Hunter's USAWatchdog.com (WNW 451 10.02.2020)
Despite the unfairness of the debate between President Trump and former VP Joe Biden, Trump still destroyed Dem candidate Biden.  This was despite the fact that moderator Chris Wallace was also debating President Trump on behalf of Biden.  Also, Trump's microphone was noticeably turned down compared to Biden and Wallace.  There is no doubt about this as you can go back and listen to it and measure it on a meter.  This is too stupid to be stupid, and it is simply a dirty trick to try subtly minimize Trump in the debate.  There is also speculation that Biden got the questions ahead of time and that he had help by wearing an earpiece and special contact lenses that would act as a teleprompter.  This may or may not be true, but who cares.  Trump won and Biden got beat. 
Democrats know they are losing and losing badly.  Black voters are switching to the GOP and so are Hispanic voters in record numbers.  This is why we have the in-your-face vote-by-mail cheating scams.  It is also why the DNC and MSM are constantly making up false stories about how Trump is a racist.  The Dems also know that polls for independent voters show about 70% of them are turning to Trump and the Republican Party.  It all boils down to no cheating will mean no victory for Dems in November.  So, they cheat and cheat big or lose big.
The Democrats in the House have passed a new stimulus bill with zero Republican support.  Good luck getting it passed thought the Senate as it was only a partisan attempt by Nancy Pelosi who was criticized by members of her own party for not getting bipartisan support.  Without a new stimulus bill, there will be more layoffs as restaurants, airlines and other impaired businesses struggle to gain traction.
Join Greg Hunter of USAWatchdog.com as he talks about these stories and more in the Weekly News Wrap-Up.
(To Donate to USAWatchdog.com Click Here)
After the Interview:
Biblical cycle analyst Bo Polny will be the guest for the Saturday Night Post.  He will shed light on coming world events, gold, silver, US dollar, stocks and bonds.