Trump Destroys Very Fake News, NSA Leaks on Trump the Real Story, Fed Scared to Death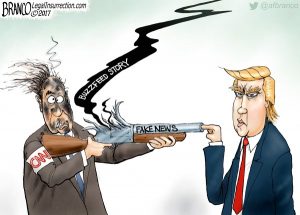 By Greg Hunter's USAWatchdog.com (WNW 272 2.17.17) 
The mainstream media (MSM) is in an absolute frenzy over the resignation of Michael Flynn, who was the top national security advisor for the Trump Administration. President Trump says Flynn was forced out because of illegal leaks.  In a press conference, Trump told the national media that it was "dishonest" and that CNN's new name is now "very fake news" instead of simply "fake news."  Trump also said the MSM is "full of hatred" and is biased against him and his administration.  Former U.N. Ambassador Michael Bolton says the left is "engaging in collective hysteria because it cannot make substantive arguments" against Trump and his new policies.
Wiki Leaks is charging that Trumps National Security advisor resigned after a "destabilizing campaign by U.S. spies, Democrats and the press." Trump said the "real story is illegal leaks." Former Democrat Congressman Dennis Kucinich issued a warning about the leaks and the power of the so-called "deep state," or secret government. Larry Klayman, founder of Freedom Watch, echoed those concerns.  Klayman got an injunction in federal court against the NSA for illegal data collection.  Now, Klayman says the leaks within the Trump Administration by the intelligence services are an "outrage beyond imagination and must be stopped."  He also says the "intel agencies are more powerful than the President," and illegally collected data and phone calls can be used to "blackmail people."
Gregory Mannarino of TradersChoice.net says the Fed is "scared out of its mind" that people will crash the bond market with a massive selloff. Fed Head Janet Yellen says "economic growth is . . . weak and disappointing," and yet she is still pushing the ideal of a needed rate hike.  Meanwhile, St. Louis Fed President James Bullard recently said there is no need to raise rates, at least through 2017.  There are record highs on all stock indexes, and the Fed is not celebrating.  Is the Fed keeping a lid on interest rates to prop up the bond market while letting the stock market explode?  Mannarino says yes, and it will all end badly.  We just don't know exactly when it will end.
Join Greg Hunter as he looks at these stories and more in the Weekly News Wrap-Up.
(There is much more in the video newscast.)
After the Wrap-Up: 
Dane Wigington of GeoEngineeringWatch.org will be the guest interview on the "Early Sunday Release." Wigington give a dire warning about how chemtrails are destroying the planet and why they need to stop the spraying now.
(To Donate USAWatchdog.com, Click Here.)