Hillary's Iowa Loss, Economy Keeps Sinking, Obama Mosque Visit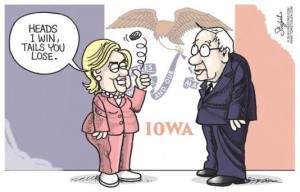 By Greg Hunter's USAWatchdog.com

The big loser in the Iowa Primary is Hillary Clinton. Yes, she came in first by a tiny margin, but even that is in question. Iowa's biggest newspaper is calling for a recount because of the .2% margin of victory. The head of the Democratic Party in Iowa, also, reportedly, is a huge supporter of Clinton, and her Iowa license plate reads HRC 2016. Dr. Andrea "Andy" McGuire, the state's Democratic Party Chairman, says there will be no recount. The biggest problem for Hillary is the ongoing FBI investigation over big national security issues caused by her private server. One of the big Republican winners in Iowa was Donald Trump. Why do I say this when he came in second? Trump spent far less time and money in Iowa than Rubio and Cruz. Iowa was basically a three-way tie.
President Obama made his first mosque visit since he was elected President. One of the things he said was there was "inexcusable political rhetoric against Muslim Americans." What I think is inexcusable is the President will not address terrorism being taught and fostered in the Muslim community both abroad and in the U.S. A 2009 FBI report said 1 in 10 mosques in America teach violence in the name of Islam. Other studies say imams preaching violence in mosques is much higher than 10%  The FBI is also on the record of tracking violent Islamic extremists in all 50 states. Why isn't Islamic terrorism in the U.S. and abroad ever addressed by the President? His mosque visit was a lost opportunity.
According to the mainstream media (MSM), the economy is always getting better or in a so-called "recovery." The overt facts say that is preposterous. Here's a headline from the Associated Press that says, "U.S. Economy to Strengthen." I say in your delusional dreams. Look at the Baltic Dry Index that measures global shipping of goods and raw materials. It is another record low again this past week. There are plenty of other headlines that refute the "recovery" story pounded into our heads by the MSM.
Join Greg Hunter as he talks about these stories and more in the Weekly News Wrap-Up.