Hillary Clinton Update, Economy Continues to Sink, G-20 Fears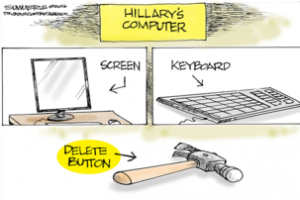 By Greg Hunter's USAWatchdog.com (9.9.16)
Hillary Clinton is having trouble with words and phrases that begin with the letter "C." She has explaining to do on her concussion while at the State Department, cyber security, coughing, The Clinton Foundation and classified documents. In her first so-called press conference in 278 days, she walked off when the questions came up on these subjects.
The European Central Bank (ECB) and Europe's top central banker, Mario Draghi, have done everything they can do to get the economy going. It has not improved, and the ECB is now downgrading its forecast, which means the money printing experiment by the ECB did not work. To make matters worse, the message from the recent G-20 meeting was "We are living in a global risk society." The G-20 pointed out the three main risks were "economic, ecological and security."
The drought in the Western United States continues to cause problems. The most severely drought areas have shrunk some, but the drought seems to be spreading. Now, officials in California are calling for a "high wildfire danger this season." Just 13 fires have burned 260,000 acers so far this season. There is no end in sight for the drought.
Join Greg Hunter as he talks about these stories and more in the Weekly News Wrap-Up.
After the Wrap-Up:
Michael Krieger from LibertyBlitzkrieg.com will be the "Early Sunday Release."