Weekly News Wrap-Up 12.16.11
On December 16, 2011
In Media
22 Comments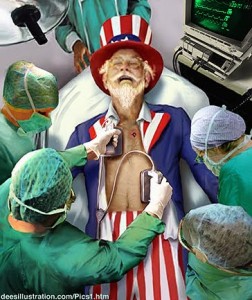 Greg Hunter's USAWatchdog.com 
Congress held multiple hearings this week on what happened in the bankruptcy of MF Global. At least $1.2 billion in customer funds are missing, and none of the top executives, including Jon Corzine, knows anything.  Some are finding it hard to believe that Corzine, a former CEO of Goldman Sachs, a former Governor and Senator could be that much in the dark about what happened.
The IMF chief, Christine Lagarde, said the crisis in Europe is not only "unfolding but escalating."  Iranians now say they brought down that American spy drone (SQ 170 Sentinel) by hacking into the electronics of the aircraft. The U.S. denies it's even the real thing.  Meanwhile, it is reported the Iranians are practicing shutting down the Strait of Hormuz.  The Strait is a shipping passage for 40% of the world's crude oil annually.  If that is closed down due to hostilities, it would surely sink the fragile world economy.  Congressman Ron Paul keeps fighting his way up the national Presidential polls.
He is near the top and only out of first place now by a few percentage points despite the MSM largely ignoring his campaign.  Finally, the indefinite detention bill or the National Defense Authorization Act (NDAA) is on its way to President Obama's desk to sign into law.  Many say it largely strips U.S. citizens of their constitutional rights.  Greg Hunter of USAWatchdog.com has all these stories and more in this edition of the Weekly News Wrap-Up.