2019 Democrat Debate 7.31.19 – Greg Hunter Live Analysis
On July 31, 2019
In Media
45 Comments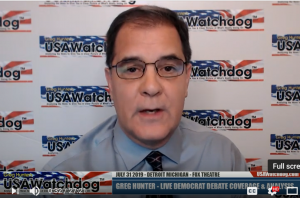 By Greg Hunter's USAWatchdog.com
I had a nice response for the Democrat Debate on July 30 in Detroit.  I came back for the 2nd night on July 31.  Unfortunatly, the broadcast was terminated because of using CNN live stream.  You Tube said, "Due to a copyright match, your live stream was terminated."  Many other channels using this video were stopped out of their live stream too.  That said, the debate was calling Trump a "racist," and the candidates were talking about giving away more "free" stuff to entice people to vote for them.  Nothing really new here, just more crazy spending.  Can any one of these people win against Donald Trump?  We will see come next November.
The video of my live comentary of the debate is below.  It's less than 30 minutes, but it reveals a lot about these candidates in this debate.  Enjoy!!
After the debate:
I will have a Weekly News Wrap-Up early Friday morning as usual.