91 Trump Felonies, NATO Ukraine Disaster, Murdered Suddenly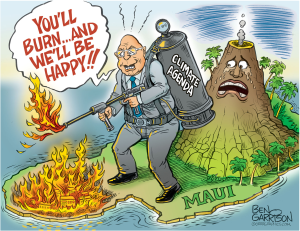 By Greg Hunter's USAWatchdog.com (WNW 595 8.18.23)
There are now 4 separate cases and a total of 91 felonies charged to President Donald J. Trump.  It has become a ridiculous cartoon prosecution of the former President that is anything but funny.  It shows a complete desperation of the Deep State to stop Donald Trump and "We the People."
This is an attack on the First Amendment that makes it illegal to contest and protest obvious election fraud.  Meanwhile, the President that many say was cheated in has seen zero charges, even though House GOP members have released proof Joe Biden and family have gotten at least $20 million in illegal cash.  It's 91 to 0 and Biden is winning—so far.
From the beginning, I said the Ukraine war was going to be a disaster and the so-called sanctions were going to "backfire."  According to a new report, the U.S. has gotten nearly $6 trillion poorer and Russia has gotten about $600 billion richer.  This has become a NATO Ukraine disaster, and now they are talking about giving land for peace.  Can peace come before NATO starts a nuclear war?  Let's hope so.
Another week and more CV19 bioweapon/vax murders.  These people are young and "died suddenly" for no apparent reason.  You don't die suddenly at 38 years old for some unexplained reason, but that is exactly what happened to Broadway star Chris Peluso.  When is the mass awakening to the CV19 death and disability program going to happen?  Not soon enough.  We really should start calling this phenomenon "Murdered Suddenly."
Join Greg Hunter of USAWatchgdog.com as he talks about these stories and more in the Weekly News Wrap-Up for 8.18.23.
(Tech Note: If you do not see the video, know it is there. Unplug your modem and plug it back in after 30 sec. This will clear codes that may be blocking you from seeing it. In addition, try different browsers. Also, turn off all ad blockers if you have them. All the above is a way Big Tech tries to censor people like USAWatchdog.com.)
(To Donate to USAWatchdog.com Click Here)
After the Wrap-Up:
Dane Wigington, founder of GeoEngineeringWatch.org, will be on to explain why Hawaii and its fires are just the tip of the climate warfare iceberg.  We the People are being attacked by the Deep State, and Wigington will explain it all.