Big Tech Censors, 2020 Election Still Stolen, Economy Fragile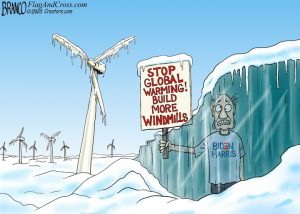 By Greg Hunter's USAWatchdog.com (WNW 469 2.19.2021)
 YouTube is censoring people like never before.  USAWatchdog.com was the latest causality in  Big Tech's quest to silence any narrative it does not want.  USAW was abruptly taken off YouTube last week for good without reason other than Community Guidelines were broken for the third time.  The channel had more than 260,000 subscribers and more than 90 million video views.  The three main narratives you cannot talk about or even question are the massive election fraud that stole a landslide win from President Trump, Covid lies and vaccine questions, and any challenge to the official Climate Change narrative.  USAWatchdog.com has questioned them all and will continue to do so with or without YouTube.
President Trump went on NewsMax to talk about the passing of radio legend Rush Limbaugh.  He will be greatly missed.  The President also talked about the election fraud and the "tabulations" of the 2020 Election.  Trump did not back down an inch that the election was stolen.  Trump also said, "What happened was a disgrace," and "This is what you find in third world countries."  Trump would not answer when asked if he was going to run again in 2024 now that he was acquitted on the Democrats' second impeachment attempt in four years.
Bitcoin (BTC) broke $50,000 per unit this week, but the overall markets are not doing that much celebrating.  Big money management firms are worried that the market is out of control.  Meanwhile, big money keeps piling into (BTC) and some wonder if this is some sort of bad omen for what may be coming.  One top brokerage CEO is worried about the market reaching a breaking point and said he was scared of a "domino bankruptcy."
Join Greg Hunter of USAWatchdog.com as he talks about these stories and more in the Weekly News Wrap-Up.
(To Donate to USAWatchdog.com Click Here)
After the Interview:
Financial expert and Publisher of The Solari Report, Catherine Austin Fitts, will be the guest for the Saturday Night Post and will talk about the coming reset and global currencies.