Federal Accounting Now Meaningless & Frightening – Catherine Austin Fitts
On March 3, 2019
In Media
180 Comments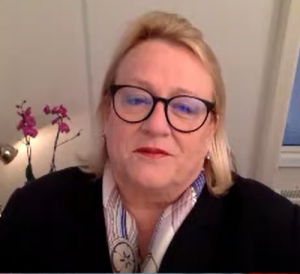 By Greg Hunter's USAWatchdog.com (Early Sunday Release)
Investment advisor and former Assistant Secretary of Housing Catherine Austin Fitts says the federal government made $21 trillion in "missing money," discovered in late 2017, a national security issue the public is not allowed to find out where the money is. Fitts explains, "There is a big study we published at Solari.com. If you go to the annual wrap-up on DOD and HUD 'missing money,' we have a whole piece on FASAB Standard 56, and it explains how it works. Essentially, what it says is there is a secret group of people, by a secret process, that can take a portion of the financial statements on the books and make them secret. You cannot know what a secret is and what is not.  So, when you look at financial statements at the Department of Defense, essentially, they are meaningless because you don't know what has been cut out. When you add this to the other laws that they promulgated that allows them to classify income flows and allow the private contractors and banks freedom from complying to SEC regulations, what you've just done . . . is taken the vast majority of the U.S. securities market dark. If I am an investor and I am looking at anything impacted by the federal credit, all the way from U.S. Treasuries, Fannies and Freddies, municipal bonds . . . or the defense contractors and the banks that handle all the deposits of all the government accounts, I cannot know what their financial statements say. It's meaningless. It's very frightening what they have done. . . . I would not buy a Treasury."
Fitts says investing now hinges on one main question, "The biggest problem when you look at investment today is: What is a good investment in a world where the rule of law exists, and what is a good investment when there is no law? There is way too much money going into military, going into war and going into force, and part of it is a real concern about lawlessness. . . . The value of an asset is only good if you can protect it."
So, what investment is Fitts looking at? She has long been lukewarm on gold, but not any longer. Fitts now says, "The world is choking on debt. . . . It's not just peak oil, it's peak everything. So, it is one of the reasons you see margins falling, and we tried to fight it by blowing bubbles. We are reaching the end of that sort of strategy, and it's one of the reasons you are seeing more and more people become aware of gold and want gold. They are saying, okay, the financial asset bubble game is over, and now we want real things. . . . To me, gold was a core position, and I have always felt that gold was a core position. So, I like gold now. For many years, I said I don't think gold is going to have a good investment run. I am changing that this year. I think gold as an investment will do reasonably well this year, and it should. . . . Basel III rules are basically making gold more attractive and focusing more on financial soundness. Yes, the central banks and banks are going to be buying, but I think as you see global investors see the extent of the lawlessness, and like the determinations in the U.S. federal credit, they are going to be looking for real assets. Gold is just going to be a place to go. . . . Away from jewelry, you've got about a $3 trillion gold market. So, it only takes a little bit of a pension fund or a sovereign wealth fund to increase their gold allocation to run the market up. I think there is going to be a steady drum beat of support for the price of gold for some time to come."
Join Greg Hunter as he goes One-on-One with Catherine Austin Fitts, financial expert and founder of The Solari Report.
(To Donate to USAWatchdog.com Click Here)
After the Interview: 
There is free information on Solari.com, but there is way more analysis, reports and videos for subscribers. To subscribe to The Solari Report, click here.
This segment is sponsored by Discount Gold and Silver Trading. Ask for Melody Cedarstrom, the owner, at 1-800-375-4188.