Mainstream Media Keeps Putting Lipstick on Pig Economy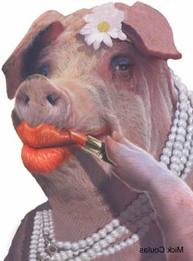 By Greg Hunter's USAWatchdog.com 
My slogan is "analyzing the news to give you a clear picture of what's really going on."  So, I spend a significant amount of time watching news on TV and the Internet and even the good old fashioned newspaper.  If you only got your news from the mainstream media (MSM), it's easy to understand whyso many people think the economy is not all that bad.  For example, yesterday, I heard the "R" word a lot.  No, I am not talking about recession but "recovery."  This is preposterous when you consider the latest report from the Case-Shiller Home Price Index that was released yesterday.  The spin from the MSM said home prices were down from October to November by 1.3%.  Makes you think—ok, not too bad.  The real story is home prices declined on average by nearly 4% year over year.  A quote straight from the actual Case-Shiller press release said, "For a second consecutive month, 19 of the 20 cities covered by the indices also saw home prices decrease. The 10- and 20-City Composites posted annual returns of -3.6% and -3.7% versus November 2010, respectively. These are worse than the -3.2% and -3.4% respective rates reported for October." (Click here for the complete Case-Shiller press release.)
Are you getting this?  The real estate market is getting worse.  The only city that saw an increase was the pork capital of the world—Washington D.C., and prices were only up by a paltry .5% year over year!     All the folks I heard, yesterday, on the MSM talked as if the so-called "recovery" was alive and well, when the evidence shows unfolding disaster.  Please keep in mind, home prices are falling despite the fact the Federal Reserve is suppressing interest rates.   A 30-year mortgage is going for around 4%.  What do you think will happen when rates rise to around 6.5% (a very good historical rate)?  Don't you think home prices will continue to slide?
Yesterday, I heard at least two different "experts" say the economy was "getting better."  The latest news about the Baltic Dry Index (BDI is mostly a measurement of global shipping rates) says just the opposite.  Brandon Smith, from Alt-Market.com, says the BDI "is plummeting like a wingless 747 into the swampy mire of what I believe will soon be historical lows."   Smith says this is foretelling bad times, not good.  (Click here to read his most excellent post.) 
Another ominous sign was brought to us by the Federal Reserve last week.  It announced it will hold a key interest rate to near 0% through 2014 instead of 2013.  Why is the Fed urgently extending this rate now?  Couldn't the Fed have told us next year it was extending the 0% interest rate for another year?  Why now?  Because the economy sucks and they see it sucking for at least three more years.  This is NOT a recovery, and the Fed basically admitted it. Jim Willie of Goldenjackass.com sees the Fed's zero interest rate policy (ZIRP) as a massive failure that reveals an extremely weak economy.  In his most recent post, Jim Willie (who holds a PhD in statistics) said, "The USFed will hold its benchmark interest rate at near 0% for at least the next three years, as a testament to central bank failure. No departure from the 0% rate can be done. The USGovt debt service requires it, demands it, and will default without it. The ZIRP and QE are worn as badges of failure and dishonor."  (Click here to read the complete Jim Willie post.)
Economist John Williams of Shadowstats.com says 0% interest rates and money printing are really just keeping big banks from going under.  This is not helping the economy to truly recover.  Real estate is going down in price, everything else is going up.   It looks like were headed for a  hyperinflationary depression.  In his annual "Hyperinflation Special Report," Williams said, "The Fed should be forced to provide new "easing" in an effort to continue propping the banking system (the explanation will be an effort to boost the economy).  Given the Treasury's funding needs, the easing likely will in the form of renewed buying of U.S. Treasuries, with the Fed remaining lender of last resort there.  Consistent with the precedent set in 2008, the Fed, and likely the Treasury, also will remain in place to do whatever is needed, at whatever cost, to prevent systemic collapse in the United States.  All of these actions, though, have costs in terms of higher domestic inflation and intensified dollar debasement.  (Click here to go to the Shadowstats.com home page.)
Williams says a hyperinflationary depression will hit the U.S. by 2014 at the latest.  He thinks when it hits, it will cause a "financial economic Armageddon."  He recommends gold, silver, food and foreign currencies as protection.  Williams goes on to warn, "The U.S. dollar remains highly vulnerable to massive, panicked selling, at any time, with little or no warning.  The next round of Federal Reserve or U.S. government easing or stimulus could be the proximal trigger for such a currency panic and/or for strong efforts to strip the U.S. currency of its global reserve currency status."
The MSM relentlessly spins a picture of a good economy, no matter what terrible news come out.  It is a gigantic disservice to the readers and viewers.  The constant spin job will leave them totally unprepared when the next crash comes, and one is headed our way—count on it.