More Ukraine War, Trump Trashes CV19 Vax, Economic Mad Max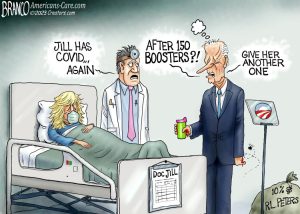 By Greg Hunter's USAWatchdog.com (WNW 598 9.8.23)
Secretary of State Tony Blinken made a surprise visit to Ukraine to announce another US aid package, so the deadly Ukraine war can continue. Blinken promised another fresh $1 billion on the heals of the announcement that the Ukraine Army lost 66,000 soldiers in the past three months alone. Add that to the 300,000 Ukraine casualties, and it's hard to understand why Blinken and others in the D.C. swamp constantly say this is the "most profitable investment." My question: Is Blinken nuts or simply corrupt, cruel and demonic. Why are there no peace talks with this kind of defeat and carnage for Ukraine and NATO? Do they want nuclear war?
Donald Trump is finally waking up to the disaster of the CV19 bioweapon/vax and is now trashing it. Trump is asking Big Pharma to address all the adverse events and calls on the vax makers release the safety data. The CV19 bioweapon/vax deaths and disabilities are increasing and there is no end in sight. Expect Donald Trump to talk about the contract he signed with Pfizer that required the vax maker to produce a safe and effective vaccine and it did neither. (Pfizer had 63% of the CV19 vax market globally.) Now, even the CDC is admitting that the vaxed are more likely to get an infection from the new CV19 variant than the unvaxed. (You cannot make this up.) With 676 million CV19 injections in America alone, this will get far worse before it gets better.
For those of you that think the economy is getting better, or, is at least in good shape—wake up!!!! Two big BRICS nations just dumped $114 billion in U.S. debt. Interest rates are not going to be cut anytime soon because you don't cut interest rates when your bonds are being dumped by your biggest creditors. Michael Snyder predicts "Mad Max Conditions are coming" and points to record credit card debt, record retail theft and a record amount of people living paycheck to paycheck.
Join Greg Hunter of USAWatchdog.com as he talks about these stories and more in the Weekly News Wrap-Up for 9.8.23.
(To Donate to USAWatchdog.com Click Here)
After the Wrap-up:
Dr. Betsy Eads will give us the latest on the evil the medical community and globalist are doing to kill and disable more people with their new CV19 variants and CV19 bioweapon/vax. There is going to be much more resistance to this medical malpractice and she will tell you what you need to keep yourself safe for this fresh CV19 bioweapon attack.