Trump is America's Last Chance-John Williams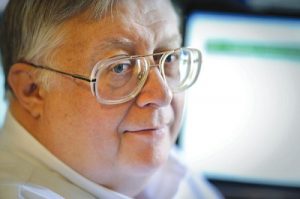 By Greg Hunter's USAWatchdog.com (Early Sunday Release)
Economist John Williams says President Trump has to do something fast and big to turn the faltering U.S. economy around. Williams explains, "You are seeing the economy slow down.  Some people are recognizing that.  The Fed's statement a week or two ago . . . many analysts consider that dovish.  The Fed knows what's going on here.  They are trying to get rates up a little, but they have a circumstance that they are not out of the woods with the banks.  What they are hoping for is maybe the Trump Administration is going to bail them out and stimulate the economy."
Williams says "The banks are still not healthy. . . . The Fed is still fighting the battle it effectively lost in 2008.  Mr. Trump has several problems.  One is the economy.  One is the long term budget deficit, and the third is the Federal Reserve.  The Fed lost control of the system.  The system effectively collapsed.  They haven't been able to bring it back to normal."
Would Donald Trump simply default on the U.S. debt if countries around the world dump U.S. Treasury bonds? Williams says, "That would be an act of default.  You don't want to do that. What Trump needs to do is address the long term solvency issues of the United States.  Then he can convince people that, yes, we are going to be able to handle this, and at the same time, take action to stimulate the economy.  That could be very bullish for the dollar fundamentally. . . . If they want this to work and save the system, and Mr. Trump will come out of this with his face on Mount Rushmore if he does, he's got to turn the economy.  To do that, he needs to increase government spending in areas that would help stimulate the economy.  He's got to cut taxes, and that is in the works in some form.  As part of the process, there very likely will be a widening of the budget deficit, which could kill the dollar and kill people holding Treasuries."
Williams says Trump must address the "long term solvency of the United States." Williams goes on to say, "If he does this, the rest of the world will say, boy, they brought things under control, and they would be happy to own the Treasury bonds.  I don't know if this can be done, but this is what you got to do."
If Trump does not succeed, Williams says, "The problem will be with the dollar. If the system is not brought under control, the rest of the world is going to dump the dollar. . . . The underlying fundamentals have not changed.  The U.S. dollar is, in the long term, insolvent.  What has changed here is that there is a chance that the Trump Administration can correct it.  As far as I can see, this (Trump) is the last chance to correct it."
Join Greg Hunter as he goes One-on-One with Economist John Williams, founder of ShadowStats.com.
(There is much more in the video interview.)
After the Interview:  
There is some free information and analysis on the home page of Shadowstats.com. For more detailed information and weekly reports by Economist John Williams, you can become a subscriber for $175 per year.  Click here to become a Shadowstats.com subscriber.
(To Donate to USAWatchdog.com Click Here)